Cradle Hill Community
At Cradle Hill, we aim for all our children and their families to succeed.
To help support our families, we offer signposting and support to local groups, helplines and contact points.
Please do take a look below for any wider support you may be needing.
Parent Talk
Action for Children run a website and 1:1 chat facility called Parent Talk. This site is full of useful parenting articles, ranging from mental health, child development to sleep. Practical guidance and advice can be found here, including access to their 1:1 chat service - this is an online chat service run with parenting coaches. More details can be found here.
Seahaven Storehouse
Seahaven Storehouse, handily located in Vale Road and offering special festive opening hours too. If you are in urgent need of a food parcel, then please visit their site: https://www.seahavenstorehouse.org/help-me or call 07921 844930.
Lewes District Citizen Advice
The Citizen Advice team offer plenty of support surrounding finances, housing, welfare and much, much more. They also hold numerous outreach sessions in Seaford and Newhaven. Future dates for these sessions can be found here: https://www.lewesdistrictca.org.uk/post/new-outreach-venues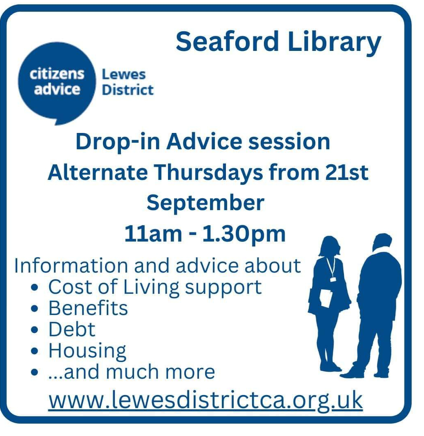 SHOUT - 85258
SHOUT is a 24/7 text service available to help support your mental health. This free service is completely anonymous and can help with a wide range of mental health issues. This service is easily accessible and might be a great help in times of need. More information about this service can be found here.
Waves
Waves offer support for families in Seaford and the surrounding area. They offer a drop-in centre which is clean, comfortable and a safe place for families to meet. This is open Tuesday-Thursday, 9.30am - 12.30pm in Seaford town centre.


Bumps2Babies is their group for pregnant mum and young babies, held on Thursday mornings from 10am in town.
More information can be found on the link below or you can call 01323 873797
https://1space.eastsussex.gov.uk/Services/4739/WAVES-Seaford
Me and My Mind
Me and My Mind are the East Sussex led Mental Health Support team. They offer a range of support both in and out of school, including online workshops to help support parents and carers. Future sessions can be found below and are absolutely free:
Aspens
Aspens offers support before, during and after an autism spectrum condition (ASC) diagnosis. They will help support families and provide information and guidance where appropriate. They can offer both online and face to face support and also run workshops to help support families. More information can be found below or you can call 01243 214120:
https://1space.eastsussex.gov.uk/Services/683/Family-Support-Servi
CLASS+
Class+ works across East Sussex to provide support to families/carers of Autistic children and young people.
They offer a weekly advice line, phone consultation, signposting and in person coffee and chat sessions. You can call CLASS+ on 01273 336887 or email them at class@eastsussex.gov.uk
East Sussex Local Offer
The Local Offer provides information about the support available for children and young people with Special Educational Needs and Disabilities (SEND). This includes a local directory and support on how different SEND processes work. You can contact them via localoffer@eastsussex.gov.uk or their website
https://localoffer.eastsussex.gov.uk/


Reading Well
Reading Well offers a great resource to help understand and manage your health and wellbeing through reading. They promote books for all age ranges that will help and improve mental health and wellbeing. We like the 'mood boosting' books and many of these can be found in local libraries.
Child Line
Childline offers support and advice on a wide range of child-related issues. Their website has plenty of useful information from online safety, wellbeing and how to manage difficult conversations.
More details can be found here: https://www.childline.org.uk/
They also have a 24/7 phoneline on 0800 1111.
NSPCC
The NSPCC also offers plenty of support and guidance surround the protection and safety of children. You can report any concerns or worries you have about a child's safety to the NSPCC via their helpline on 0808 800 5000 or email help@NSPCC.org.uk
They also product one of our favourite videos through the NSPCC PANTS campaign - Pantosaurus:
//www.youtube.com/embed/-lL07JOGU5o#t=0.5