Year 4
If you are looking for our home learning, please access Google Classroom by clicking here.
Welcome to Year 4
Year 4 consists of:
Dolphins class - Miss Young
kareny@cradlehill.e-sussex.sch.uk
Porpoises class - Mrs Elphick
ingae@cradlehill.e-sussex.sch.uk
Sea Lions class - Miss Kusadali
perik@cradlehill.e-sussex.sch.uk
In Year 4, we continue to build upon the excellent learning started in Year 3 preparing your child for life in Upper Key Stage 2. We enhance the learning experience through a range of learning journeys:
Term 1 - Why Risk Living Near a Volcano?
Term 2 - How did the Romans Change Britain?
Term 3 - Who were the Anglo-Saxons and how do we know what was Important to them?
Term 4 - What did the Vikings want and how did Alfred stop them from getting it?
Term 5 - What makes the Amazon so Biodiverse?
- How Biodiverse is Friston Forest?
Term 6 - How does our Lifestyle affect our Health?
Parent Booklet Summer 2022
Year 4 Parent Booklet Summer 2022
We hope that you will support your child at home by: reading with them daily for at least 10 minutes, spending time supporting their home learning including learning the spellings listed below and practising their fluency with multiplication tables - you can find a link to Times Table Rockstars below.
Spellings
Please click on the link below to find a full list of all the spellings your child should learn by the end of Year 4.
Statutory word list for Years 3 and 4.docx
Spelling practice: Spellings will be tested and set on a Friday.
Multiplication Tables
Children are expected to be fluent in their multiplication tables by the end of Year 4. Please support your child by encouraging them to access Times Table Rockstars at home on a regular basis.
Homework
Reading: Reading for pleasure for a minimum of 10 minutes each day, preferably with an adult. Please click on the image below to see our letter about the importance of reading at home and how this will be celebrated in Year 4.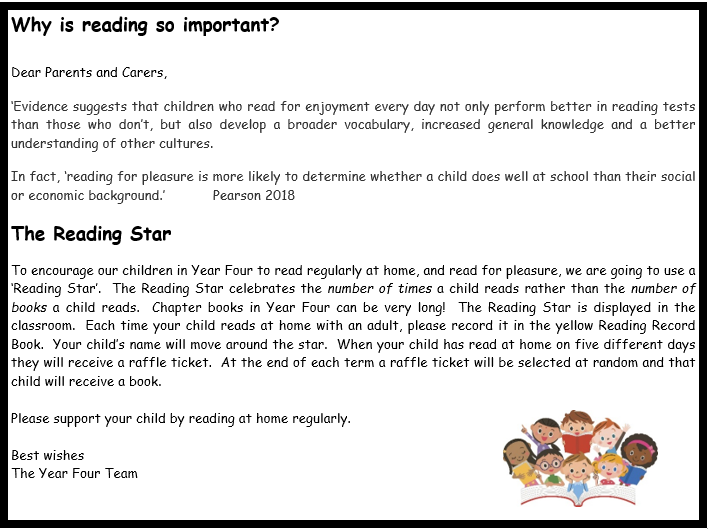 TT Rockstars: Little and often works best here; daily for 5-10 mins will support retention of number facts more effectively than an hour a week. Log-in details are also attached.
Doodle: Again, little and often works well. The online platform supports learning in both maths and English.