Year 4 Blog
20th and 21st July - Transition Meetings
On Monday 20th and Tuesday 21st July, children will have the opportunity to say goodbye to their current teacher and to meet their new Year 5 teacher. Invitations to the meetings are below. Passwords were sent out via Parent Mail last Monday.
Sea Lions to Octopus transition meeting
With Miss Kusadali and Miss Rogers
Time: Monday July 20, 2020 11:30 AM London
Join Zoom Meeting
Dolphins to Orca Transition Meeting
With Mr Simmonds and Mrs Eddie
Time: Tuesday July 21, 2020 02:50 PM London
Join Zoom Meeting
Porpoises to Dragonfish Transition Meeting
With Mrs Jones, Mrs Topp and Mr McCaughan
Time: Monday July 20, 2020 12:00 AM London
Join Zoom Meeting
Guidelines for Zoom transition meetings:
Here are a few rules about our zoom meeting before you join us -
When you first join, you will be placed in a waiting room until we admit you to our chat.
When joining our Zoom chat you must have the Christian name of your child as the display name, otherwise they will not be admitted from the Waiting Room.

Names like "iPad" will not be allowed to join. The purpose of this is to protect the meeting from people who should not be joining.
Please make sure your child is in a communal area of your home and appropriately dressed.
When you enter the chat, the microphone will be muted and the camera will be off, you may need to help your child if they don't know how to turn these on!

However at times, we are likely to mute everyone so that we are able to hear whoever is talking.
If your child would like to show us something they have done at home, please be prepared and have it ready. They will need to put their hand up before they speak, or send messages to us using the chat function so that everyone doesn't talk at once and be mindful we won't have very long to chat! To make the most of the time, it would be useful to email your child's current class teacher with any questions they might have. If you would like to join your child for the meeting, you will be very welcome.
We look forward to seeing you there.
17/7/20 - Final Year 4 KaZoom!
Join us today at 11am for our final KaZoom quiz:
https://zoom.us/j/98987287505?pwd=UlpONTAxanUzNXJxUTFDRTBsb25BQT09
Today, if you feel it is safe for you to do so, you are also invited to come to collect your books and belongings from the school. For safety reasons, we ask that you please stick to the allocated time (see below). You will also be able to collect a free ice cream from lovely Charlie the ice cream man, courtesy of our wonderful PTFA (thank you!!):
Porpoises: 1pm

Dolphins: 1.30pm

Sea Lions: 2pm
This will also be the perfect opportunity to drop back any reading books you borrowed before the school 'closed', in the box provided on the day so that these are available for children in September.
We hope to see you there, but if not, we'll see you on Monday or Tuesday for your transition Zoom meeting x
8/7/20 - This week's KaZOOM details
Join us on Thursday 9th July at 2pm for some more quiz-tastic fun as Mr S co-hosts the weekly KaZOOM quiz with Keela live and exclusive from Cradle Hill studios! Ant and Dec - you had better watch your back!
Thankfully, Keela's questions are far superior to Mr S's who is quite frankly running out of ideas at this point! However, you can look forward to testing your knowledge on....
Harry Potter (there's a surprise!)
Dinosaurs
Women who changed the world
Disney
... and many more besides!
To join the KaZOOM, follow the link below:
https://us04web.zoom.us/j/78492609696?pwd=Q3ozZlE2eW15NnlvajUyK3IzSzJwUT09
I am so excited to see all of your smiling faces!!
Mr S x
6/7/20 - Recommended Reads
As you will have seen in this week's update from the team via Parent Mail, I spotted this website with 100 recommended reads for each year group. If you're looking for something good to read to help you complete the Summer Reading Challenge, why not check it out? You might also find something good in this little lot.
If you're stuck in a rut and always read books by the same author (David Walliams, Jacqueline Wilson and JK Rowling spring most immediately to mind!), how about branching out and trying something new? Books for Topics has lots of brilliant ideas.
Or, maybe you could try out one of the Year 4 teachers' favourites:
Mr Simmonds Recommends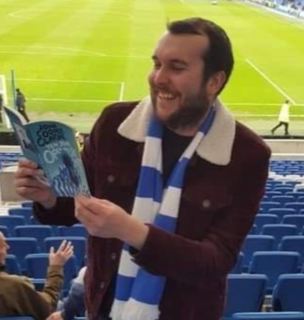 LAST BOOK I READ:
Lightning Mary by Anthea Simmons (no relation). Historical fiction all about the fascinating Victorian female fossil hunter, Mary Anning.
ONE I THINK YOU'LL ENJOY:
The Boy Who Dreamed of Dragons
. Fourth in the series by Andy Shepherd. A Dolphins favourite. Join Tomas and Flicker for their latest adventure. Keep your eyes peeled for the next
'Nothing to See Here Hotel'
book too!
MODERN CLASSIC:
Miss K Recommends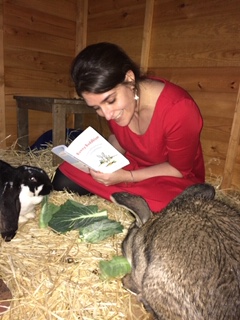 FAVOURITE LOCKDOWN READ:
I, Cosmo
by Carlie Sorosiak. I have no words. Hands down, the best book I have read. Ever. A beautiful story told from the point of view of a dog. What's not to like?! The author is in the process of releasing a new book told from the point of view of a cat. I wonder if she'll write a rabbit one next?!
NEXT IN MY 'TO BE READ' PILE:
Rooftoppers
by Katherine Rundell. Winner of two major book awards and shortlisted for another. It's meant to be amazing. I just need to finish the last few chapters of 'A Sprinkle of Sorcery' first.
FAVOURITE BOOK WHEN I WAS IN YEAR 4:
George's Marvellous Medicine
and
The Twits
by Roald Dahl. I remember being sent to bed all day for doing something naughty (I can't remember what) and reading GMM in one go. Best punishment ever! These books still make me laugh now.
3/7/20 - KaZoom!
Join Miss K and Mr Simmonds for this week's KaZoom, filled with a completely random collection of questions, including nursery rhymes, animals, maths and logos. Join us for more fun and silliness today at 1.30pm.
The Zoom link is: https://zoom.us/j/6140937162?pwd=dEZNakRuaklGSU5LdnppU0Q1NHZXQT09
In case you need it, this week's meeting ID is: 614 093 7162
The password was emailed to you via Parent Mail on Monday, but just give Miss K a shout if you need it: perik@cradlehill.e-sussex.sch.uk
The Kahoot pin will be shared during our Zoom call.
We look forward to seeing you there x
29/6/20 - Let the museum come to you
Hey guys and welcome to another new week. Hope that you are all safe, well and smiling. You may have noticed the blog posts have dried up since the Year 4 team have been redeployed to their bubbles but we are still your teachers and we are still here for you! Whether you want to ask about home learning or let us know what you've been getting up to, we would love to hear from you. It is bizarre to think that it has been 14 weeks since we were last together. It is even stranger (and incredibly sad) to think that we'd now be 3 weeks from the end of our school year. We are missing you all ever so much and hope that you can join us for this week's KaZOOM on Friday at 1.30pm.
Anyway, I wanted to make you all aware of the fabulous free resources that are being provided by Leeds Museum. Emily, who works as the Learning Officer, releases daily history videos featuring fascinating artefacts on different topics each week. Excitingly, this week's theme is Rainforests!
If you're feeling especially keen, then I recommend looking at the videos on the Romans too! And why stop there?
To access the videos, you can go here and search 'Museum from Home'.
To access resources linked to the videos, you can go here and click on 'Museum from Home Resources'.
Have fun Historians!
Mr. S x
24/6/20 - KaZOOM
Hi guys,
This week's Year 4 quiz will take place at the new time of Thursday at 2pm (for a prompt 2.15 start) with Mr S back in the hot seat - just to keep you on your toes. If you wish to join, click the link below:
https://us04web.zoom.us/j/74693723494?pwd=RHhtMHR0ZGtrcFBHWjBieUJ0ZUhqZz09
The password has been sent out as part of our weekly email but please get in touch if there are any problems. The rounds are becoming increasingly niche as we approach our eleventh week of Kahooting.. this week you can expect questions on the favourite foods of fictional characters, missing words in newspaper headlines, dinosaurs and LOL Surprise (I'm pretending to know what that is) amongst other things. As always, there is something there for everybody! I would really love to see as many of you join in the fun as possible as the end of term looms. Your teachers miss you all so much.
Lots of love to you all,
Mr S x
19/6/20 - KaZoom!
Morning all,
Today's KaZoom will be hosted by Miss Kusadali at 2.30pm. Please follow the link below to join us:
https://zoom.us/j/6140937162?pwd=ZVBLczlZMmhHTXozcmlmWmhrRmowUT09
Meeting ID: 614 093 7162
The password has been sent out via Parentmail, but if you haven't received it, please email Miss K (who is working from home today) directly and she can send it to you: perik@cradlehill.e-sussex.sch.uk
There's a range of questions today including science, history, Fortnite, food, cars and more. Please don't worry about how many you get right - I made the quiz but had to Google most of the information to build it!! It's just a lovely opportunity to see everyone's faces and have a bit of a laugh. You can always give yourself a nickname so no one knows who you are.
I look forward to seeing you there later!
Miss K x
CALLING ALL ASPIRING BLOGGERS
Guest Bloggers Wanted!
Think you can cheer up the world with your wit and wisdom? Want to wow your friends and family with an inspiring blog post? Think you can better the efforts of your teachers? Then submit a 'Reasons to be Cheerful' blog post of your own!
Once a week, we will publish a post written by one of you lovely lot, to give your eyes a rest from our eternal witterings and give you the chance to shine. All you have to do is think of a reason to be cheerful at this crazy time and write about it. All bets are off…anything goes (yes, that means you can even write about Fortnite, but we would encourage you to be more imaginative than that!). Your post should, however, include:
Positivity
Humour
Opportunities for learning (these might be ideas you've had about the home learning families could do linked to your topic, ideas you've tried out yourselves or links to websites and resources offering more information etc)
You could write it completely independently (brownie points for this…not chocolate brownies –sorry!) or with a member of your family. You might even include drawings you've created, work you've done, photos you've taken or videos you've made.
You might write about:
Hobbies
Games you've enjoyed
Books you've read
Nature
Pets
Skills we could take this time to work on (for example, cooking, sewing, drawing, woodwork etc)
Literally ANYTHING!!!
So go ahead. Wow us! Show us what you're made of. What are you waiting for?
When you're ready, simply email your posts, complete with any photos, links and videos to Miss K at perik@cradlehill.e-sussex.sch.uk . I'll pick one each week until this craziness is over and will enlist the help of Mrs Topp, Mrs Jones and Mr Simmonds to help me choose.
Good luck, bloggers! x
11/6/20 - Mascot competition
The Albion have Gully, Sea Otters have Patrick and Dolphins have Dele Alli Dolphin (thanks Keela *rolls eyes*). Every great team needs their own mascot and now Seaford Town Football Club want you to design a mascot for them!
What an opportunity to become a part of Seaford Town's history! I have no doubts that our creative Year 4s are up to the task. Good luck guys!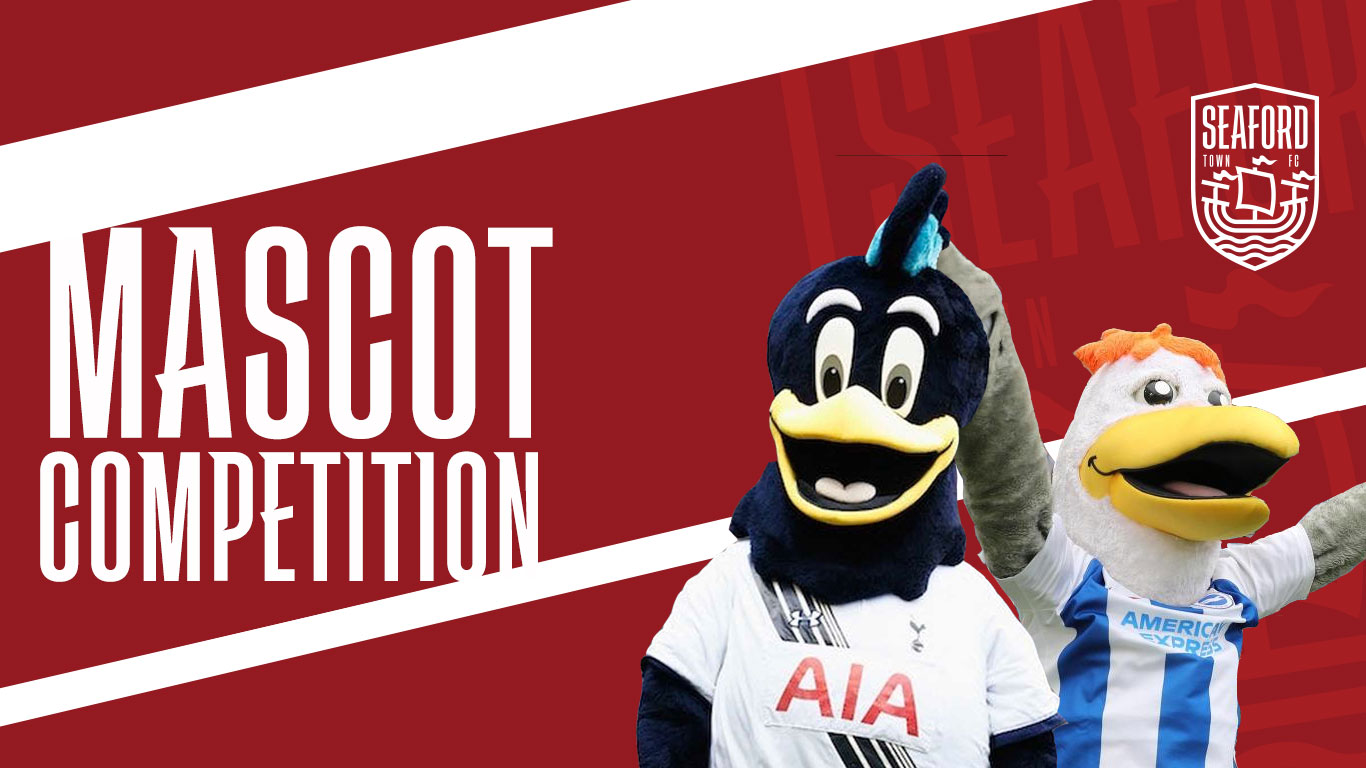 Seaford Town FC needs a Mascot and we need your help to design it!

Our 'design our mascot competition' is open to everyone between the ages of 4 and 16. You do not have to be a player or club member to enter.

Be creative! Think of the history of Seaford and the surrounding area! And think of the club!

HOW TO ENTER

Step 1. Print the entry form from our website: https://www.seafordtownfc.com/news/design-our-mascot-competition-2541762.html

Step 2. Use your imagination to draw and colour the best team mascot for Seaford Town FC.

Step 3. Name your Mascot.
Please make sure you show me your entry as well as sending it in to the club. I can't wait to see your designs.
For inspiration, think about what makes our town special or any local landmarks. 'Cliff' might be a good name! Or how about 'Sister Town' - the eighth sister of Cuckmere! I'm sure you'll come up with better ideas than me.
10/6/20 - ICYMI KaZOOM
Hi guys. We hope you are all doing well!
In case you missed this week's email, this week's KaZOOM will take place on Friday at 2pm with questions ranging from food to landmarks to blurred children's films. Can't wait to see you there guys. The link is below:
For the password, please email your class teacher.
I've added some times table Kahoot challenges which can be completed at your own pace at a time that suits you. Good luck everybody!
3/6/20 - Inspirational figures
Good morning lovelies,
We hope you're all safe, well and happy despite the gloomy weather at the moment. Where has all that lovely sunshine gone?!
I'm sure that, by now, you've heard about the protests against racism currently taking place, mainly in America, but also now in the UK too. The issues that have prompted these are, sadly, not new ones, and whilst it might be hard for us to really understand, it's vital that we try to learn about the experiences of others to help combat inequalities.
I became a teacher for a number of reasons: because I love children, to make a difference to their lives and because I love learning. So, with everything that's going on in the world right now, I've been trying hard to learn more about the lives, struggles and work of some of the many amazing members of the BAME (Black, Asian and Minority Ethnic) community and thought it was a good time to share some of these with you.
I have no doubt that you already know something of key historical figures Nelson Mandela, Martin Luther King, Rosa Parks, Harriet Tubman and Maya Angelou (if you don't, just click on their names for more information), but have you heard of...
1. Isra Hirsi: An American environmental activist who began using her voice for change aged just 12 and who co-founded US Youth Climate Strike, encouraging other young people to take action. You can see her talking about why fighting the climate crisis is so important here, where she touches on the fact that the climate crisis disproportionately affects BAME groups.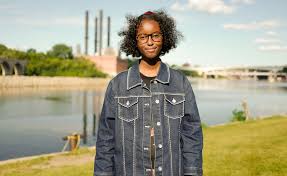 2. Mari Copeny: A youth activist from Flint in Michigan (USA), where lead poisoned the water supply. She has worked hard to raise awareness of the plight and to raise funds to support underprivileged children in her community and across the country. You can read a little about her and her amazing work (and a visit from President Obama) here.
3. Mya-Rose Craig: A blogger and naturalist who has become the youngest person ever to be awarded an honorary doctorate by the University of Bristol. You can read more about her and her amazing work to create greater equality in conservation and to encourage BAME people to get out and enjoy nature, here.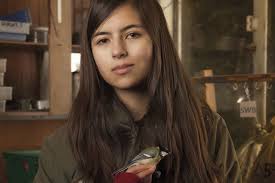 I hope that, if you take nothing else from these amazing and inspirational stories, you hear the message that you are never too young to make your voice heard and to stand up for what you believe in. However, you don't have to rush out and organise a protest, set up a charity or write a letter to the Prime Minister, sometimes simply listening and learning is enough.
2/6/20 - KaZOOM and notice re: home learning
Hi everyone, just a quick post today. This week's KaZOOM will be taking place on Wednesday at the adapted time of 2pm with Mrs Eddie as guest host but at the very least Mr S will be in attendance too! Any question rounds that were requested last week will be held for the next time I put the quiz together :) the link for this week can be found below:
Just a quick notice about today's maths on the home learning schedule. We have noticed that the Bitesize resources have been taken from Power Maths so the children will have already completed the tasks. Unfortunately, there is no way of knowing who will be providing the worksheets in advance. Our feeling is that a refresher for something as significant as fractions will be a good thing in terms of consolidating knowledge. However, we also understand that some children may wish to try something slightly different so here are some extra resources:
As always, please do drop us an email if we can support in any way!
1/6/20 - Recommended reads #2 - I, Cosmo
Dogs are wonderful creatures. I was petrified of them when I was young but that all changed when I returned from school one day and Dylan was there waiting for me. I've never known unconditional love quite like it. From the first second, we struck up an immediate bond and a friendship that I will never ever forget. Every dog lover I've ever met has their own story of how their canine companion stole their heart. Sadly, it wouldn't be fair for me to have a dog at the moment but it has been so lovely to see all of your furred friends on our Zoom chats and hear about them all when we were back at school. For this reason, I am sure that this week's recommend read will resonate with you.
As a child, I can remember times when I felt poorly, stressed or upset and without invitation Dylan would come and keep me company. It was like he could sense how I was feeling. Indeed, dogs are scientifically proven to be very astute at reading certain emotions and human body language. Have you ever wondered what your dog might say if they could talk to you though? Well, in 'I, Cosmo' you are invited to see the world through the eyes of an aging golden retriever named Cosmo Walker. Cosmo likes hiding bacon down the side of his sofa, he longs to dance and he is suspicious of the neighbourhood sheepdog. Our canine narrator is a wise and logical old boy whose musings on human customs and traits will be sure to leave you laughing. However, there is one thing that Cosmo does not question about humans; his human and 'brother' Max adores him and Cosmo adores Max. Doggedly. Cosmo joined mum and dad before Max and his younger sister Emmeline arrived and for years they were a happy and loving family. They'd spend their days laughing and their nights dancing but recently things have changed. The dancing has stopped and Cosmo has been sniffing sad smells around the house. The only time that mum and dad talk now is when they argue and the only thing worse than the fighting is the silences in between. Max is worried about what the future holds and the prospect of being separated from Cosmo. To Cosmo, Max is practically perfect in every way and he cannot bare to see his buddy upset. Cosmo knows he must do whatever he can to protect Max and keep this family together but what is a dog to do? With a little help from the fun-loving and kind Uncle Reggie, the trio come up with a plan to reunite the family through their mutual love of dancing. If you really can't teach an old dog new tricks, then this golden retriever truly does break the mould. Can Cosmo's ballroom heroics keep this family together? Will this dog have its day?
Dog lovers – fetch yourself a copy now, you will not regret it! I'll warn you that this book is a tearjerker but it is also a hilarious and endearing tale of friendship and love that will leave you with a warm feeling inside.
29/5/20 - Dolphin news
Hope you're having a lovely week, guys. Just thought I'd share this awesome clip of some Dolphins spotted on the Sussex coast by where I live. I hope Dele Alli Dolphin is behaving!
Mr Simmonds x
26/5/20 - Happy Half Term / Kahoot
Happy half term guys. Hope you are all doing well and having a lovely time with your families. I certainly hope your break has got off to a better start than mine has; I have fractured my metatarsal whilst running and spent my Bank Holiday Monday in A&E at the Royal Sussex County Hospital! I'm doing okay aside from a little bit of discomfort. Did you know there are 26 bones in the human foot? Without metatarsals, we wouldn't be able to stand up! Fortunately, I've been told that mine will heal after a lot of rest! I had an X-ray and have been given a big boot (which even dwarfs my size 11 clown feet) to wear which gives me some extra support. Whoever said exercise was good for you, eh!?
While I was initially reluctant to go to hospital when the NHS is already under enough pressure, it was the right thing to do and it served as a reminder (as if I needed one) of just how outstanding our NHS is. We should never take our National Health Service for granted. Even when the clapping stops, we must always remember the incredible work they - along with our other key workers - have done throughout this time and the sacrifices they have made. As I was being treated and wheeled around by the amazing NHS staff (the poor souls), I noticed a beautiful rainbow in amongst the hundreds by our very own Year 4 superstar, Eve! What are the chances of that? The rainbows adorning the walls really did brighten the wards up so well done to Eve and anyone else who has done something similar to show support.
It is crazy to think we would be entering our final term of the year next week. I think that I speak for the rest of the year 4 team when I state how desperately we would all like to be back together at school again in the appropriate circumstances. On this note, I just wanted to reassure everyone that even when school resumes for Reception, Year 1 and Year 6, our weekly Kazoom will continue to take place. It is likely that the day and time may need to change but I will endeavour to make sure we find the time to have that cherished hour or so together each week. This brings me to my next point... many thanks to Mrs Eddie for hosting our quiz last week. I am back in the hot seat this week so prepare yourselves for lots of maths, Harry Potter galore (courtesy of Keela), anniversaries a-plenty, an abundance of children's books and - as requested - more facts and insight into the fascinating lives of your Year 4 teachers!!
You can access the Kazoom here: https://us04web.zoom.us/j/79250070614?pwd=UXUrekVpSkUxRXhmZEpKcks1SnlkUT09
See you Wednesday at 1pm.
Love to you all,
Mr Simmonds
21/5/20 - Outdoor Classroom Day
Good morning lovelies,
We really hope you're all safe and well. By now, you should have received your little package from us, although I'm not sure Mr S and I would make very good posties to be honest, as we got a little confused about some of the addresses! So, if you haven't received yours and have no idea what I'm talking about, please do let us know and we'll let the pros do the work next time! If you live outside of Seaford, please give it until Monday as we posted yours and, as I'm sure you're aware, the postal service is even busier than usual at the moment.
We're smack bang in the middle of Mental Health Awareness Week. This year, the theme is kindness. Now, I know that you're all lovely and there are an awful lot of big hearts in Year 4, so I'm hoping that you've not only been being kind to others, but also to yourself as suggested in my last blog post. If you have any stories of kindness that you'd like to share, please do pass them my way. I'm happy to be greedy and keep them all to myself or post them on our Home Learning Gallery if you'd like others to know. Maybe you'd like to post a little message of thanks to a friend or relative that has done something kind for you? If so, let me know and I'll set up a little patch on our website for an enormous great big THANK YOU and virtual squeeze to show your appreciation.
I couldn't let today go by without pointing out that it's Outdoor Classroom Day, so what better excuse to get yourself outdoors for learning before the week is out? Here are some ideas of what you can do if outdoor learning is your thing. Click on the blue links for associated websites:
1. Go birdwatching. 'Tis the season for fledglings as Ivy found out yesterday (see Sea Lions' Home Learning Gallery spot for pictures) when the blue-tits in her garden fledged! I narrowly dodged a rather clumsy thrush fledgling too on my way home from school the other day, after it landed in the road. I managed to safely move around it and turned the car around to see if I could get it out of the road only to have an enormous great van come hurtling towards it. Thankfully the driver spotted it too and managed to move out of the way just in time and the poor thing scurried into the bushes to escape harm before gracelessly blundering into trees on the other side of the road, quickly followed by its poor parent!
2. Save the bees. Yesterday was World Bee Day, an opportunity to celebrate the amazing creatures responsible for pollinating 1/3 of the world's food. Without them, it would cost UK farmers £1.8 billion a year just to pollinate our crops. That's more than the old owner of Harrods or Lord Alan Sugar is worth! Crazy! Worldwide there are approximately 20,000 different bee species and around 270 of those live in the UK. These are some of the most common ones:
3. Next time you're in the garden, walking in the woods or down at the park, have a go at making your own fairy/ elf garden. Have a think about what fairies or elves might need and look around you for natural materials that might be used to create a magical, mysterious world for them to live in. The link above has some really lovely ideas if you're not sure where to start.
4. If you love maths, how about trying one of these brilliant activities from Outdoor Classroom Day.org?
Estimate and Measure - one for dinosaur lovers!
Natural Equations - if you love missing number puzzles like this:
then Natural Equations is for you.
Magic Number Square - if you really fancy a challenge, have a go at this! You can find an online version of the game here to get you started.
5. Make a masterpiece. How about taking inspiration from artist Andy Goldsworthy who has created beautiful works of art like these:
Or try your hand at natural weaving. Just prepare a piece of cardboard with strings running vertically (up and down), collect some natural materials (grass, leaves, flowers - long ones or those with stems still attached are the easiest to work with) and then weave them through the strings you prepared. This artist added some wool and twine too which creates a nice range of textures. Ribbons and strips of fabric or paper would look good too.
If you fancy a bit of a challenge, you might like to make your own frame from twigs, like this one:
If you don't fancy any of these activities, have a look here for more fantastic ideas. There's bound to be one you like!
As usual, please send any photos of your learning to your teacher so that we can see what fun you've all been having and share it to our Home Learning Gallery if you'd like us to (we only do this with your permission).
Enjoy the sunshine and keep smiling.
Love Miss K and the buns x
Emmie enjoying the sunshine
20/5/20 - KaZOOM!
Hello everyone! Not your typical blog post here... just a quick message to say that our weekly Kahoot/Zoom, or Kazoom as it will hence forth be known, will be taking place tomorrow (Wednesday) at the revised time of 12pm. There is also a new quizmaster in town with the amazing Mrs Eddie taking the reigns so Mr Simmonds can play along with you all. Don't worry - Mrs Eddie has been warned to expect a backlash if she doesn't include a Harry Potter round!
Your Zoom link is below:
https://zoom.us/j/7991621303?pwd=SGpYVTVGK3hMZXJFWVFKZWgvV2FRUT09
Please email your teacher if you'd like to know the password.
19/5/20 - Mental Health Awareness Week: Be kind to yourself
Monday marked the beginning of Mental Health Awareness Week and this year's theme is one that is close to my heart: Kindness. A very wise teacher, who was full of one-liners and inspiring sayings used to say 'Be kinder than is necessary,' and that's always stuck with me. Those of you that have been taught by me, may well have heard me use it once or twice. I just figure that if you live your life by this motto, you can't really go wrong.
But, before you can do this wholeheartedly, it's important to be kind to yourself. The first way that you can do this is to talk kindly to yourself, just like you would to your friend if they got something wrong or something didn't go the way they wanted it to. You must remember that even when you're talking to yourself, even if not out loud, you are listening. And the more you put yourself down, the more likely you are to begin to believe it.
It's okay to make mistakes (in life as well as the classroom); we all do it and it's part of how we learn, so don't beat yourself up about it. You are all amazing human beings with so many wonderful qualities. If you only do one thing today, I'd like for you to write down what you like about yourself. It can be anything - maybe you like the fact that you're good at helping your family, or looking after a pet, or try your best to cheer up your friends when they're sad. If you don't want to write it down, just think about it in your head or, even better, say it out loud. If you can't think of anything, talk to the people you live with, phone a friend or email your teacher; they'll soon be able to tell you how brilliant you are!
18/5/20 - Recommended Reads #1 - Do You Know Me?
Happy Monday everybody. Welcome to another week. Hope you're all well and keeping busy! While some people have learned new skills, 'completed' Netflix, baked to their heart's content or become the latest Tik Tok sensation, I've been setting myself challenges like running 5k every other day and reading one book a week. This brings me on to the subject of today's blog post.
As part of my weekly 'book-athon' I will be posting a review of the books that I read. I would like you guys to do the same! Write a review of a book you're reading and we'll post them on here and - if you wish - on Amazon for the author and potential customers to read. I know that most authors love to read the reviews written by their audience so this would be a really nice thing to do in the current situation and give your writing a genuine purpose.
My first review is of Libby Scott and Rebecca Westcott's second title 'Do You Know Me?' Hope you all enjoy it.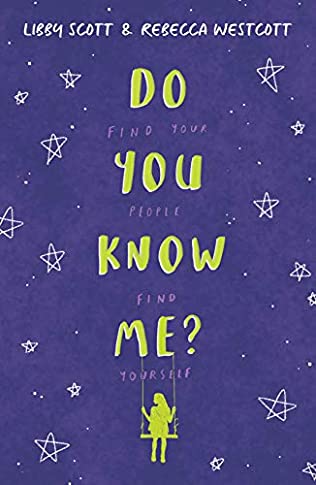 'Can You See Me?' was – and remains - one of the most powerful and moving children's books I have ever read. It has authentic, loveable characters and a hugely gripping story but it also taught me so much about understanding autism and pathological demand avoidance (PDA). I strongly believe that everybody from children to teachers to parents should read 'Can You See Me?'
For these reasons, I had been ever so excited about the release of the sequel 'Do You Know Me?' and pre-ordered it from the first moment I saw the cover art appear online. As its tag line 'Find your people. Find yourself' suggests, this is a real journey of identity, learning to love and embrace the person you are and, equally, appreciating others for who they are.
Tally is autistic and sees the world differently to other children. The first few months of secondary school at Kingswood Academy have been very challenging for Tally and - to top it all - the Year 7 residential trip to GoCamp is approaching fast. How will she cope away from her family and her beloved dog Rupert for a whole week? How will she manage whilst surrounded by people that do not understand or, as she believes, even like her? It's a catch 22 – stay at home, miss out and remain unpopular or go against all of her instincts and have an utterly miserable week away from all of her home comforts. Resenting her parents for 'forcing' her to attend, Tally reluctantly concedes that there is no alternative and boards the coach for what will turn out to be a truly unforgettable week.
Things quickly go from bad to worse when Tally learns that her only trusted adult Mrs. Jarman has pulled out of the trip at the last minute and her one true friend Aleksandra has been put in a different group. On top of all of this, she is paired with some past adversaries and a hostile bully from another school. With her anxiety levels through the roof, Tally struggles to adapt to camp life. As the politics of popularity unravel, Tally grapples with a dilemma; does she conform to fit in with the other children or pluck up the courage to stay true to what she believes is right?
'Do You Know Me?' is a tale of identity, friendship, empathy and kindness. Tally's insightful diary entries help us to empathise with the difficulties she faces every single day of her life, while the narrative takes us on an exciting adventure through all the drama and the ups and downs of her week.
As someone who has attended a fair number of Year 6 residentials, I can certainly confirm that this is an accurate portrayal of how these trips can bring the best out in children and enable them to realise their true capabilities and learn about who they are; how they can bring people together and build lasting friendships; how they can create memories that last a lifetime.
I urge you now to join Tally on her voyage of discovery as she finds her people and finds herself. You certainly will not regret it!
Just prepare yourself for the gaping vacuum that remains when you finish. I sincerely hope that the talented duo of Libby Scott and Rebecca Westcott are planning to complete the Tally trilogy!
So I thought I'd take this opportunity to let you guys know about a book-related competition that you may wish to enter. National Book Tokens are running a contest to design your own book token. This is an amazing opportunity to win you and all of your classmates a £10 book token and have your winning design printed on book tokens nationwide. How cool would it be to see your design in book shops?
If you'd like to enter this competition, go to this link.
For those of you waiting for the next chapter of Charlie Morphs into a Mammoth, I've been encountering some technical difficulties but hope to have some chapters online for you this week. Sorry for the delay! In the meantime, the fabulous people at Books for Topics have put together a wonderful free resource directing you to several authors sharing online video readings of their books.
You can access these free books here.
This week also marks Mental Health Awareness week. At this difficult time, taking care of our mental health has never been more important. This year's theme is Kindness so this week I am encouraging you to 'fill as many buckets' as you can! Here is a chart which includes some ideas for random acts of kindness - just make sure you have your parent's permission first!
Don't forget, there are also many activities related to health and wellbeing below on our blog.
Happy reading guys and remember to get those reviews in!
Miss you all. Stay safe and keep smiling.
Mr S. x
14/5/20 - Spectacular Science!
Good morning you lovely lot!
It's a wonderful world we live in (it's a little bit crazy at the moment, but wonderful nonetheless) and as science is the study of it, that can be pretty remarkable too. Science isn't all lab coats and test tubes, you know. There are plenty of awesome little experiments that you can do at home to investigate the world around you.
If you'd like to, you can record (in pictures or writing), your predictions, how you conducted the experiment, your results and why you think you got the results you did, OR you can just chill and do the experiment simply for the fun of it. Maybe share it with a friend or relative on a video call, or with your next door neighbour over the fence, like when the lovely Pippa came in and did some science busking with you - it's up to you.
Here are some really simple (and fun) science experiments that you can do at home with things you may well have in your cupboard.
I remember doing this one at university, when I was training to be a teacher! We tried adding a little vinegar too, to see how that changed the ice.
Some of you may have already done this experiment when we looked at the water cycle, but I know you loved it and there's no harm in repeating experiments. Scientists do it all the time!
If you were in Sea Otters class last year, you may remember doing this experiment using salt, rather than sugar. Maybe you could repeat that (simply replace the sugar in the experiment below, with salt) and compare it with this. The great thing about this one is that your crystals will be edible! I don't recommend eating the salt ones though! You must ask an adult to help as the experiment works best with boiling water. They could just use water from the kettle and stir in the sugar or salt - there's no need to boil it on the hob, although this may change the shape or size of the crystals, so it could be interesting to compare the methods. I wonder whether salt or sugar will make the best crystals?
If you do try out any of these experiments, don't forget to share photos or drawings with us - we love to see what you've done and can upload what you send us to the Home Learning Gallery if you'd like us to.
I'll be back on Monday with some more fun science ideas. Until then, have a great weekend, poppets!
Love Miss K and the mischievous buns x
Des and Emmie (check out the grubby nose!!)
12/5/20 - Kahoot
Happy 200th birthday Florence Nightingale! In honour of this momentous occasion and to pay homage to the Lady of the Lamp's landmark birthday, there will be a whopping 200 questions in this week's Kahoot. Be honest, I had you going for a bit there, didn't I? Okay, okay... not 200 questions but there will be a grand total of 100 questions this week including Mozart, dances, The Sims, emoji song titles, close up photos, flags of the world, milkshakes, fictional dogs and FIFA 20. You certainly cannot claim this quiz doesn't have variety! There is something for everyone!
Potterheads will be elated to know that, after I was lynched last week for removing it, the Harry Potter round will be returning. Old favourites the blurred disney round and 'on this day' will also make a comeback.
Here's your link:
https://us04web.zoom.us/j/79889939667?pwd=RVVNOW5wNS8vcmd6bkI0Z3ZUcGlLZz09
For the password, email Mr S (although it did go out in our weekly email)
See you at 1pm legends,
Mr S. x
11/5/20 - Reasons to be cheerful 13: Art
Good morning smilers!
I hope everyone is safe, well and happy. What reasons have you found to smile this week? For me, it was seeing your lovely faces on the Kahoot quiz (so nice to see so many people joining in now - keep an eye out here for this week's link), seeing my dozy rabbits bouncing and binkying around the garden, finishing report writing (yay!!), starting sewing a new dress and taking part in an awesome art class online about my favourite artist, Matisse.
Towards the end of his life, Matisse was too poorly to paint, so began to create enormous cut out pictures like this: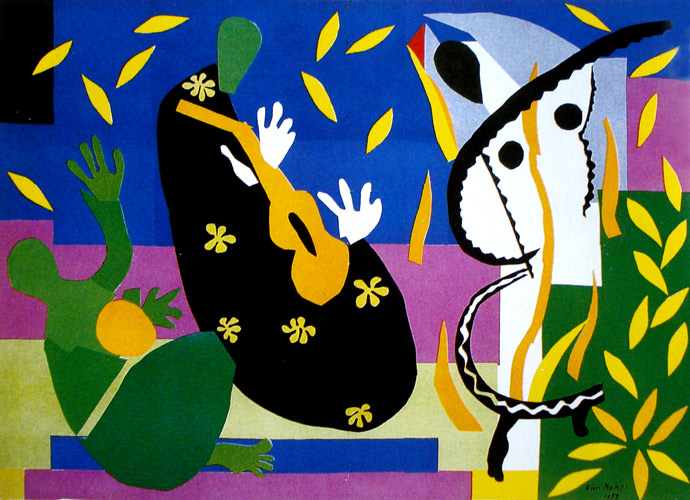 The online class I took part in was based on his cut-out work and I created this:
I'm not sure I've missed my vocation, but I loved doing it and I really like the way you can see all of the different shapes and layers when you hold it up to the light. Matisse took inspiration from people who worked in the circus and from nature too. Can you see the trapeze artist? How about the piece of paper I had to cut in response to a piece of jazz music? How many leaves and flowers can you spot?
Perhaps you could have a go yourself? All you have to do is:
1. Think about something you really love (football, dogs, Minecraft, dancing...anything!).
2. Look at some pictures of maybe your favourite dog breeds, Minecraft characters, dancers or footballers, and without drawing it out first, have a go at just cutting out the silhouette. There were children doing the class with their parents and they loved it. One of the children was really surprised how the shapes just started to appear.
3. Next, listen to a piece of music and just cut out what you can hear - I'm sure Minecraft has some music accompanying it? Or maybe you could listen to your favourite team's anthem? If you've picked an animal, maybe you can find a piece of music with their name in or a piece of music from whichever country it comes from. Just listen and cut. It's really that easy.
4. And lastly, we had to look at some leaves and flowers and cut pictures to represent those. Yours might be footballs or shin pads, Minecraft blocks or Creepers, ballet shoes or tutus, paws or collars.
5. Play with putting it all together on one sheet. Move parts about, step back and have a little look at what you've created. If you're not sure, move the bits about again. There's no right or wrong way to put it together. If your family doesn't mind, maybe you could blu-tack the parts onto a wall, which is what the artist that was running the course had done and what Matisse did (except his pieces were absolutely HUGE! Even taller than me. Even taller than Mr Simmonds!).
Be creative and don't think about it too much. Don't worry about each individual piece because when you put the whole picture together, you create something completely different. Plus you can hide bits you're not keen on with other bits that you are really proud of (sneaky!).
If you don't fancy that, how about finding one of his artworks that you really like and have a go at copying it? There's nothing wrong with copying in this way. The way we learn lots of new things is to copy someone else before having a go for ourselves. If you don't have the right colours, maybe you could paint paper in the colours you'd like. If you don't have plain paper, newspaper or old envelopes would work. Or you could just use old magazines or catalogues if you have them - just check that the reader has finished with them and then hunt for pages that are mostly the colours you'd like.
We love to hear from you all, so if you'd like to share what makes you smile or your creative artworks, please do ping us an email. Go on. Make our day!
Love, Miss K and the buns xx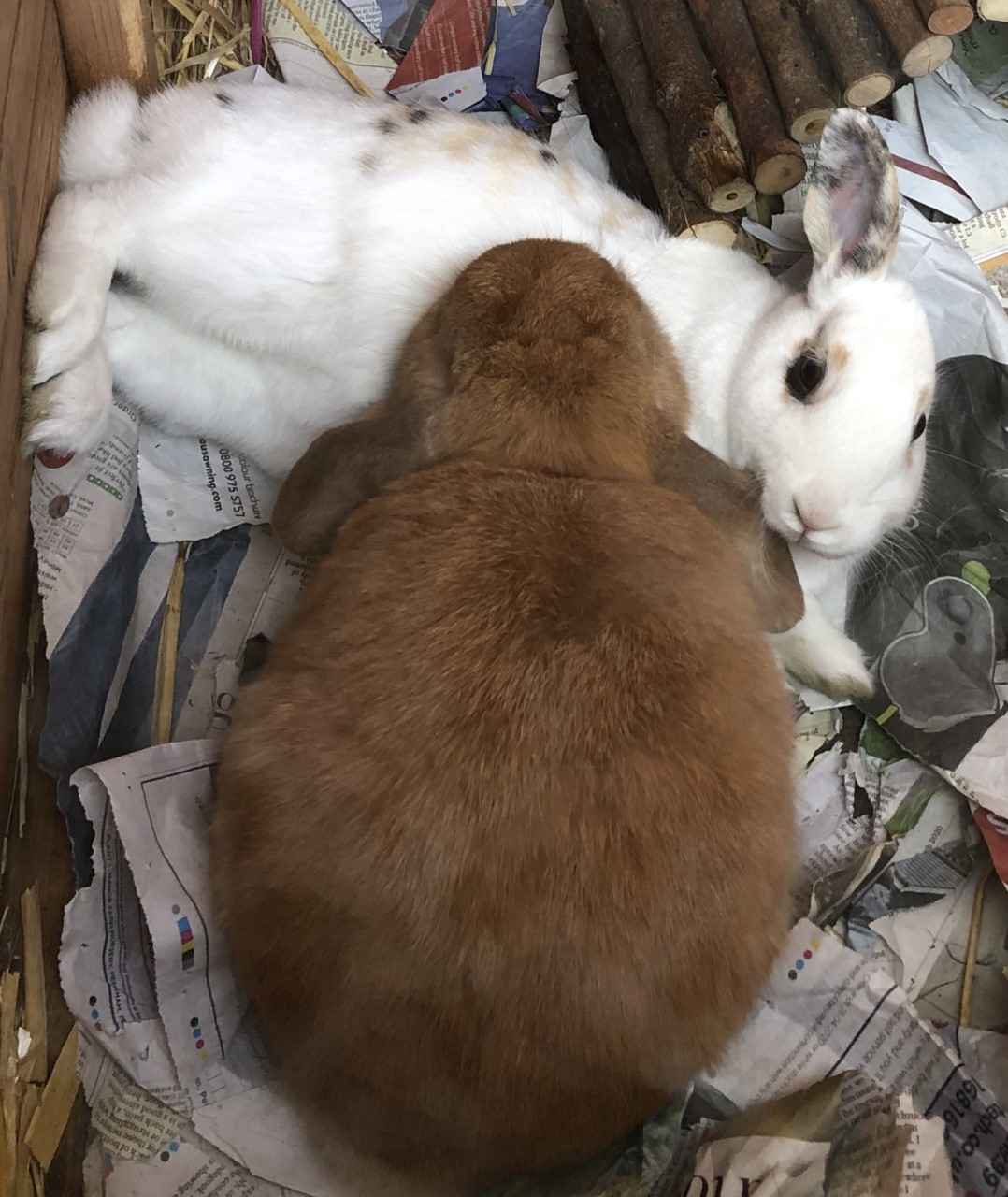 Dexter and Dawn
7/5/20 - Commemorating VE Day at home
Tomorrow marks the 75th anniversary of Victory in Europe (VE) Day. Unfortunately, due to the current circumstances, social gatherings and street parties have been cancelled but today I am going to post a few ways in which you can commemorate this momentous occasion from the comfort of your own homes.
On Friday 8th May 1945, the guns fell silent across Europe bringing to an end six years of toil, tragedy and - for many - the ultimate sacrifice. Ever since, VE Day has provided an opportunity for grief, reflection and remembrance and 75 years later, it is still important that we take the time to respect and remember those who gave their lives to secure our freedom and liberty.
Join in two minutes of silence
Join the rest of the country in a 2 minute silence on Friday morning at 11am to pay respect to the service and sacrifice given during World War Two.
Decorate and display bunting
I know that Leon in Dolphins has already been busy creating some bunting. Should you wish to do the same, you can download a template here provided courtesy of Twinkl (there are also other FREE VE Day resources to download).
Colour your own poster
The amazingly talented Onneke has been commissioned by Seaford Town Council to produce a stunning poster which is another beautiful way to mark the occasion. You can also download a colouring page version here.
Learn how VE day was celebrated at the time
If you wish to learn more, Mr T does History has produced an enquiry lesson which investigates how VE Day was celebrated at the time. You can access the resources for this lesson here.
Access amazing FREE reading resources by author Tom Palmer
The superb author Tom Palmer has provided an array of resources available linked to his forthcoming book 'After the War' which features scenes from VE Day. There are some really engaging activities for you to complete here.
Free resources provided by the British Legion
A good starting point for introducing your child to VE Day may be this powerpoint (originally intended for school assemblies). The kind people at British Legion have also provided a wide range of home learning resources for you to download here.
Cross-curricular learning ideas by 'This Week Junior' magazine
Highly recommended and reputable children's magazine 'This Week' have made part of their previous VE Day issues available for free online. Not only is the article a really informative overview but it could be a useful stimulus for some writing tasks. They have produced a map of lesson ideas comprising maths, PSHE, science, geography, art, history and music! Check it out here.
Bake
I know that many of you have been taking some time to bake over the past few weeks. This link will direct you to a page with some fantastic VE Day themed home baking recipes to bring the street party to your living room. The Union Jack cookies look particularly delicious! Bon Appétit!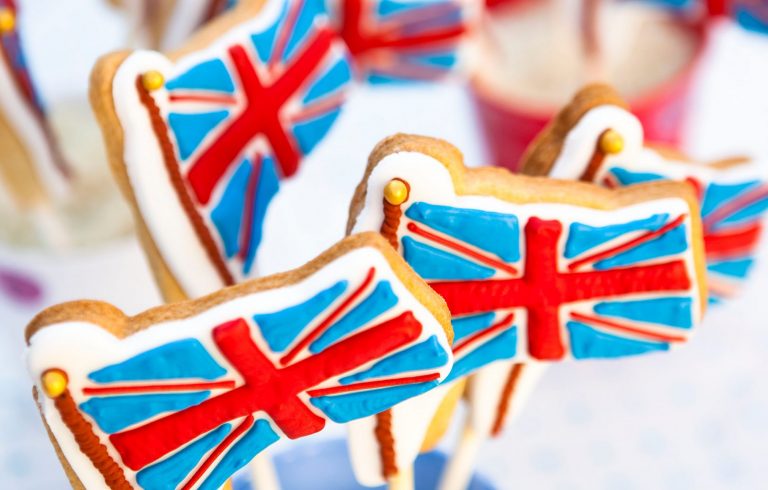 Show your appreciation
Please show your appreciation for our NHS key workers tonight who are themselves making a huge sacrifice to ensure we can once again enjoy the very freedoms that our servicemen and women have fought for during World War Two and other conflicts.
Florence Nightingale at 200
Tuesday 12th May marks the 200th anniversary of Florence Nightingale's birth. You may have noticed that several of the temporary hospitals that have been set up are named in honour of the lady with the lamp. She has also received the prestigious role as one of Cradle Hill's house patrons! Teach Wire have adapted a larger scheme of work to provide six free activities on the life and achievements of Florence Nightingale. Check them out here and find out why we are still honouring this remarkable woman two centuries after her birth.
I really hope you have found today's blog post useful. Best wishes to you all.
Stay safe and keep smiling,
Mr. S x
6/5/20 - Kahoot update
There has been a change to the link for this week's Zoom. You'll now be able to access it here https://us04web.zoom.us/j/78874507605?pwd=Qm1IcEJhSUw4TStURGVCYk1tdHBYdz09
Please email me if you'd like the password (same password as previous email).
Join us for rounds on Minecraft, Brighton & Hove Albion, Roblox, rabbits and blurred celebrities as well as old favourites the logo round, the emoji puzzle round and the on this day round. Can't wait to see you there!
5/5/20 - Story time: Charlie Morphs into a Mammoth (chapter 2)
Hi everybody, hope you are all doing well. It's time for the second chapter of Charlie Morphs into a Mammoth. Will Charlie escape from Dylan's trap? Let's find out - hope you enjoy!
Charlie Morphs into a Mammoth (chapter 2)
Also, while I'm posting, a final reminder to get your entries in for Thomas' Fantasy Football Challenge. See the blog from 29/4/20 for details.
Stay safe and keep smiling x
4/5/20 - How to keep a smile on your face: Part 2
Good morning lovelies,
We hope you're all safe, well and smiling today. The sunshine seems to be back for now - long may it continue! I thought that today I'd give you another couple of ideas about how to keep those lovely smiles of yours smeared across your faces. If you can think of any ideas yourself that you'd like to share, please do ping me a message (perik@cradlehill.e-sussex.sch.uk) and I'll make sure I include them. This is your blog too and we're always happy to receive input from you.
So far, we've covered sleep and exercise (30/4/20). Today, I'm going to talk to you about the benefits of being out in the sunshine and getting creative:
3. Sunshine
Our bodies are phenomenal and capable of so many astounding things. For example, did you know that our body produces vitamin D (which helps us fight disease and improves bone health) when exposed to the sun? So not only does it shut down to mend, heal and restore itself as we sleep, it can also produce its own vitamins during the day that help us to heal.
In addition to that, research has shown that sunshine helps to improve our mental health. When the body recognises sunlight through the optic nerve (a bundle of more than a million nerves at the back of your eye, which send visual messages from your eyes to your brain), the gland which produces a hormone linked to sleep (melatonin), starts to slow down and serotonin (the happy hormone) production increases. How cool is that?!
The most effective way for this to take effect is for you to get outside as the all important UVB rays can't travel through glass. Scientists aren't really sure how much sun you need to produce enough vitamin D for your body, as this is dependent of lots of different factors and, of course, you still need to take care not to burn in the sunshine (especially at the moment, as the cool breeze can trick you into thinking you don't need sun cream as it's not really that hot!). But, it would seem that the sunshine is as vital for us to be healthy as it is for plants.
You don't need to just be sunbathing on a lounger with a nice cool lemonade to reap the benefits (although that does sound quite nice!). If you're like me and get fidgety if you have to sit still for too long, how about having a go at one of these things, if it is safe for you to do so:
Play football in the garden with your family, or just have a kickabout on your own
If you're lucky enough to have a trampoline in the garden, have a bounce about
Scoot alongside your family when taking your daily exercise (or just walk!)
Have a picnic in the garden
Read a book in the sunshine
Play with your pets outside
Help with the garden
There are so many things you can do - if you think of any you'd like to share, just give me a shout.
4. Get creative
One thing I've really loved about lock down is the opportunity I've had to get creative. Usually I'm rushing around all over the place doing this, that and the other and am too exhausted by the time I've finished to do lots of the creative things I really enjoy. I know that we've talked as a school about mindfulness before, but mindfulness doesn't have to be just meditation.
Mindfulness is just about living in the present moment and can be active. One of the things that I've really loved is sewing in the evenings and at the weekends. So far I've made bunting for the rabbits, a skirt, about 50 scrubs bags for nurses and am now onto a top with rabbits on (obviously!) and a dress too. But if sewing isn't your thing, you could try any of these:
Colouring - check out these lovely free colouring pages
https://www.smithsongallery.co.uk/pages/charlotte-farmer-colouring-sheets
https://www.crayola.com/featured/free-coloring-pages/
https://www.twinkl.co.uk/ (some are free, but others require an account, which is currently free: https://www.youtube.com/watch?v=iMNHN8JzwGQ)
I think these little pipe cleaner animals are lovely.
And I know I've posted these puppets before, but I think they're brilliant and really easy to do.
Or if, like me, you like trying out little fiddly things, how about having a go making some of these lovely beads out of magazines?
How about taking part in this local art competition? Simply email a picture of what you're looking forward to most when normality returns to lauren@davidjordan.co.uk which may be displayed in their shop window in the town centre to spread messages of positivity.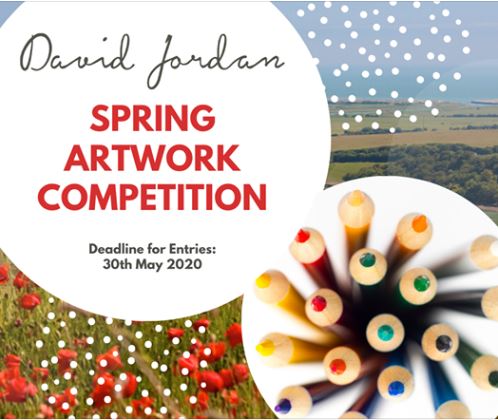 Or have a go at some of the great online activities available from Tate Kids
like this marbled paper using shaving foam. It looks like great fun; I'm always happy when I'm making a mess!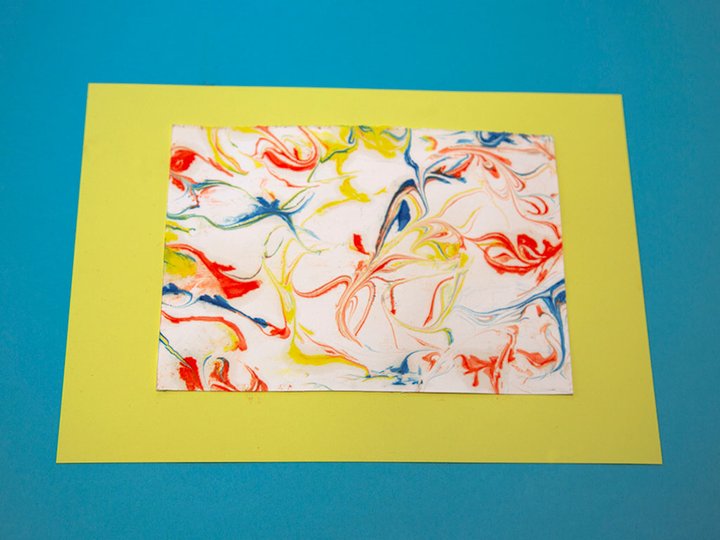 Have a go and let me know how you get on, or just drop us a message to say 'Hi'. We love hearing from you.
Be kind to yourselves,
Love, Miss K and the buns x
Des and Emmie
1/5/20 - Story time: Charlie Morphs into a Mammoth (chapter 1)
Hi everyone. Hope you've all had a good week. How is it May already? Firstly, I just wanted to say thank you for all the kind comments about the home learning. I am really pleased it is helping. We cannot stress enough that there is no requirement for you to complete all of it! Pick and choose tasks as you wish. Do it in a different order. Do absolutely none of it. Whatever works for you and your children (or if you are a child reading, your parents!) I am so impressed by the work being sent in. Remember we are here to support if you need any assistance whatsoever. Please don't hesitate to email!
So a few of you have requested a return of Story Time and since I've managed to finish reading 'The Explorer', I've decided to share Charlie's next adventure with you all!
Apologies in advance for the sound quality. I'll revert to using iPads for future recordings. Hope you enjoy.
Charlie Morphs into a Mammoth (chapter 1)
30/4/20 - How to keep a smile on your face
First of all, I'd like to say how impressed and delighted I am that our lovely Year 4 team are stepping up and getting involved with this blog, if only to give everyone a rest from mine and Mr Simmond's eternal chatter! Seriously though, you have given me, for one, another reason to be cheerful, so thank you Maddy and Thomas. If anyone else fancies putting a smile on this old goat's face, then feel free to ping me a brilliant blog like Maddy has, or a champion challenge like Thomas.
Apart from maybe chocolate and sewing, I reckon I've probably covered each of the reasons I can find to be cheerful for now, so I thought I'd take a break from rambling on about sheep and rabbits and share a few ideas about ways to help you deal with what might be a tricky time for you. Some of you might be thinking, 'That's it. Miss K has finally lost the plot. What's she talking about, tricky time? Being off of school is AMAZING!' and there are lots of great things about this time, but I know others will be desperate to come back to school and may well be finding the situation quite a stressful one.
Lots of you have been working incredibly hard at home on school work and we genuinely couldn't be prouder of what you're all doing at the moment. If we could give virtual gold stars, they'd be pinging around all over the place. For now, you might have to raise your hand, give me a wave, throw your hand over your shoulder and give yourself a pat on the back and tell yourself what we'd tell you in person, if we could: 'Well done! You are awesome! I'm so proud of you!'.
What I'm really hoping is that, amongst all of the hard work you're doing, you're also looking after yourself. I'm not just talking about making sure you change your pyjamas once in a while, clean your teeth and get your five a day, I'm talking about keeping your mind healthy too and that's what this blog post is going to focus on. Here are a couple of my top tips:
1. Sleep
If you're anything like me, you might be finding that because your routine has changed your sleep pattern is all off. You might be going to bed later, getting up later, napping in the day, not sleeping very well at all or possibly having some very strange dreams. Whatever it is, it's important that you try to keep a good bedtime routine to help you sleep.
Sleep is what we call 'restorative'; it's your body and brain's opportunity to rest, heal and grow. You can ensure that you get a decent night's sleep by giving yourself the opportunity to switch off properly before you try to get to sleep. For example, make sure that you don't have screen time for at least an hour before bed. That means no TV, no iPad, no phone, as the blue light that's emitted from these devices keeps our minds active for longer and can stop us from sleeping. How about having a bath if you can, or a bedtime story with your family before lights out? Maybe you could read to yourself while you're all cosied up in bed or listen to an audio book? You can find free audiobooks for children here:
https://stories.audible.com/start-listen
https://www.worldofdavidwalliams.com/elevenses/
If you'd like for me to post a clip of me reading a book each day, please let me know. I'd be more than happy to set this up for you.
2. Get physical
Not only will exercise help you to sleep better once you get to bed, but (here comes the science bit), if you're feeling a bit anxious, it will also help you to burn off a chemical called adrenaline which your body releases when you're feeling stressed. In addition, it releases feel-good hormone serotonin which is known to help us feel happier and healthier.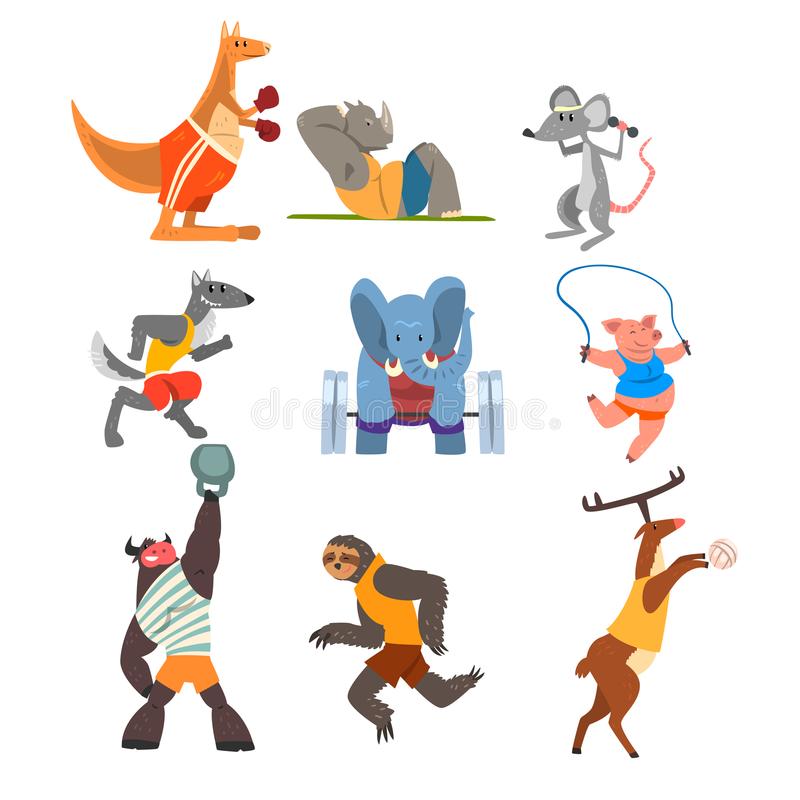 If you haven't already tried the Joe Wicks workout on YouTube daily at 9am, that's definitely worth a go. If you're finding that a bit much (I could barely walk for 2 days after trying the first one...soooo many squats!), try his 5 Minute Move activities to help you build up your strength and stamina. You can find them here:
https://www.youtube.com/user/thebodycoach1
If dance is more your thing, how about giving GoNoodle a go at home? There are loads of brilliant dance videos to join in with there and it's free to join. And don't forget, you get to choose your very own character to send to the transmogrifier:
Did you know our very own Miss Rogers has also been uploading some dance workouts for you to join in with? You can find them on our website, here:
https://www.cradlehill.e-sussex.sch.uk/Miss-Rogers-Dance-Workout/
The PE team have put together lots of great ideas, which you can find here too:
https://www.cradlehill.e-sussex.sch.uk/Keeping-Healthy/
If you're struggling to get going (we all do sometimes!), maybe you could try some gentle yoga, like the routines from GoNoodle, or these ones from CosmicKids:
https://www.youtube.com/user/CosmicKidsYoga
I don't want to overwhelm you at what could already be a pretty overwhelming time for you, so I'm going to leave it there for now, but will add this little booklet which I put together last year to support you to be mindful (live in the moment). Hopefully, if the ideas above or the ones I'll keep adding don't help you, something here just might.
Remember, you are wonderful and eventually this very strange time will be over; It won't be long before you're back in the classroom and I'm nagging you for talking about your computer game antics again!
Be kind to yourselves.
Love, Miss K and the buns x
Dexter and Dawn
29/4/20 - Thomas's Fantasy Football Challenge
We're all missing the football, right? Well... our very own Thomas has got you covered! It's Thomas's Fantasy Football Challenge!
You will need to create your own 8-a-side team comprising a goalkeeper, two defenders, two midfielders and three strikers. You can spend no more than £150m. Best of luck to you all.
Thomas has asked that all entries are sent in by Tuesday 6th May at 12pm. He will be judging the best team. Apparently the prize is going to be £150m, isn't that right, Thomas?
The prices of each player can be found below: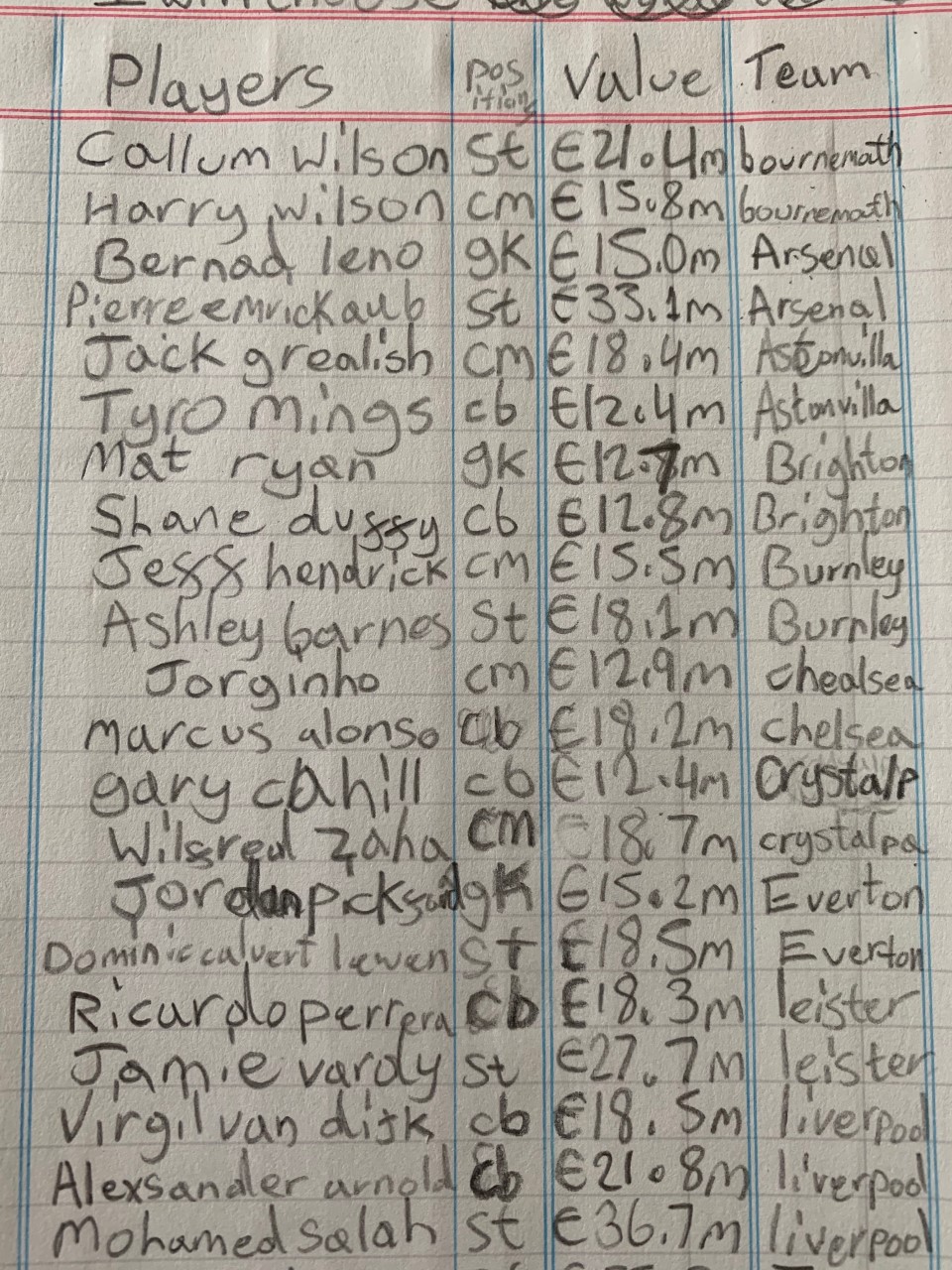 29/4/20 - Kahoot
Happy Wednesday everybody. Today's Kahoot will be a 100 question special in honour of Captain Tom Moore - who celebrates his 100th birthday tomorrow - and the NHS. This week will feature the return of the Harry Potter round and the now legendary dog breed round (though I'm quickly running out of breeds). In addition, you can expect questions on local history, England managers, the NHS, emojis, Pokemon, golf, flowers, Roald Dahl, logos, country outlines, maths, Britain's Got Talent, states of matter and many more!!
To access the Zoom, go here
For the password, please email me at ashleys@cradlehill.e-sussex.sch.uk
See you at 1pm! x
28/4/20 - Reasons to be cheerful CELEBRITY TAKEOVER #1: Maddy
We called our blog posts 'Reasons to be cheerful' as a reminder of all of the things to be grateful for and happy about despite the current situation. Today's blogger has provided MILLIONS of reasons to be cheerful over the course of this year in Dolphins class and she is continuing to bring cheer even now from the comfort of her own home. I am ever so proud to present to you our first guest blogger; the marvellous, the magnificent, the magical, the majestic... Maddy!
Maddy's Blog - Reasons to be cheerful.
Although it's been a difficult time recently, there are many reasons why you should be cheerful. I'd like to share some with you…..
You get to spend time with your family at home. Even though we are 'stuck inside' I get to see more of my Mummy!!! 😊 and my brother, Ben, because he had to come back from university.
You even get to choose how much schoolwork and Maths you get to do (Dillon K!). You even might facetime your friends and see their smiley faces. I know I like to do that.
Look what Mr Simmonds is doing – he's making Kahoot quizzes for everyone. We even get to see our friends on the Kahoot quiz every week. And don't forget the amazing, lovely Mr Simmonds!
Although I'm missing my school very much. The homeworking hasn't been so bad. My brother & Mummy have been helping me. I've learnt a lot…… I've learnt a lot about the Rainforest. I've got better at reading, decimals and rounding decimals and my timetables! This has made me happy.
When I'm going on walks with my Mummy & sister, sometimes my Nanny walks with us on the other side of the road, to keep her safe. I like it because we get to see her lovely face and talk to her in person, not just on the phone and computer.
I'm very lucky that I have a very beautiful garden. We can play outside and get fresh air and stay safe. It's been nice to do drawing in the garden when's its nice and sunny. And I can take my book outside and read.
In the mornings I sit with my mummy at the back door and look out for little birds to fly around and see which types we can find. We are trying to learn about them!
I have even had an unusual birthday, but it was incredible! I got a card from Mr Simmonds which made me really happy, and me and my mummy cried about how wonderful a surprise it was.
Although I'm missing my Nanny I got to facetime her and do decopatch with her over the computer! And with the rest of my family at home. And I still had a great big colourful cake and it was sugary! Plus I got great presents, including a little computer of my own! My sister was jealous.
We are so lucky that we can all contact each other through phones and computers. It makes me feel quite joyful when I get to see y friends and family who I haven't seen in ages. Its nice to play and talk to them.
These are just some of the things that have made me cheerful, that I wanted to share. I'm also enjoying Roblox, drawing, puzzles, Uno, monopoly junior, TV, YouTube and so much more!
Stay happy and safe everyone!
Maddy
Wow. So many wonderful ideas to make the best of being indoors! Well done for a fabulous blog. As well as providing so many useful ideas for all of your friends, I'm sure this will inspire so many other children to write for the blog. What a star!
If anyone else would be interested in writing for our blog, please email your teacher. We can't wait to see what you come up with!
27/4/20 - Home Learning
Good morning everybody. Hope you all had a lovely weekend!
As of Monday, Cradle Hill will have been closed for a total of 16 school days. As a year group team we have been considering the best way to take the home learning forward. These continue to be uncertain times and, while we can't put a date on when or if we'll be returning to school, we understand that some parents (and indeed, some children) would benefit from a weekly outline of tasks to complete in order to maintain routines and consistency.
We cannot express enough that we are putting this in place to support families who wish to have a more tailored approach with more structure in place for their home learning. The happiness and wellbeing of you all remains our number one concern and we must stress that there is absolutely no expectation for this work to be completed. Feel free to do it all, pick and choose tasks as you wish or ignore it completely.
We will continue to update our Year 4 blog and our weekly Kahoots will go ahead as normal. This is merely a supportive measure for you to use if you so wish. We would however encourage you to continue providing opportunities for your children to read and use TT Rockstars daily and to complete their My Maths tasks (more tasks will be going live on Monday) if possible.
The home learning schedule will appear on the Year 4 Home Learning page on Monday morning.
As always, please do not hesitate to get in touch if there is anything we can support with. We are here for you!
Best wishes,
Year 4 team
24/04/20 - Reasons to be cheerful #12: New life
Whilst everything else all around us seems to have stopped, the world is still turning, the stars are still visible at night and the sun still shines for us. And new life continues to spring up all around us. I've been so thankful to live within walking distance of some beautiful places to walk and take in the wonders that nature offers us. It was such a privilege just a few days ago to see a lamb being born in the field I walk through. Unfortunately, I didn't manage to catch the birth on video, but here is a video of the moments shortly afterwards (nothing too gory, I promise!):
https://m.youtube.com/watch?v=LNdJgXG0LtM
If you wanted to find out more about sheep farming and wool, try this site:
https://www.britishwool.org.uk/learning
Lovely games to play and resources there.
I've also noticed a huge range of wildflowers blooming, like these: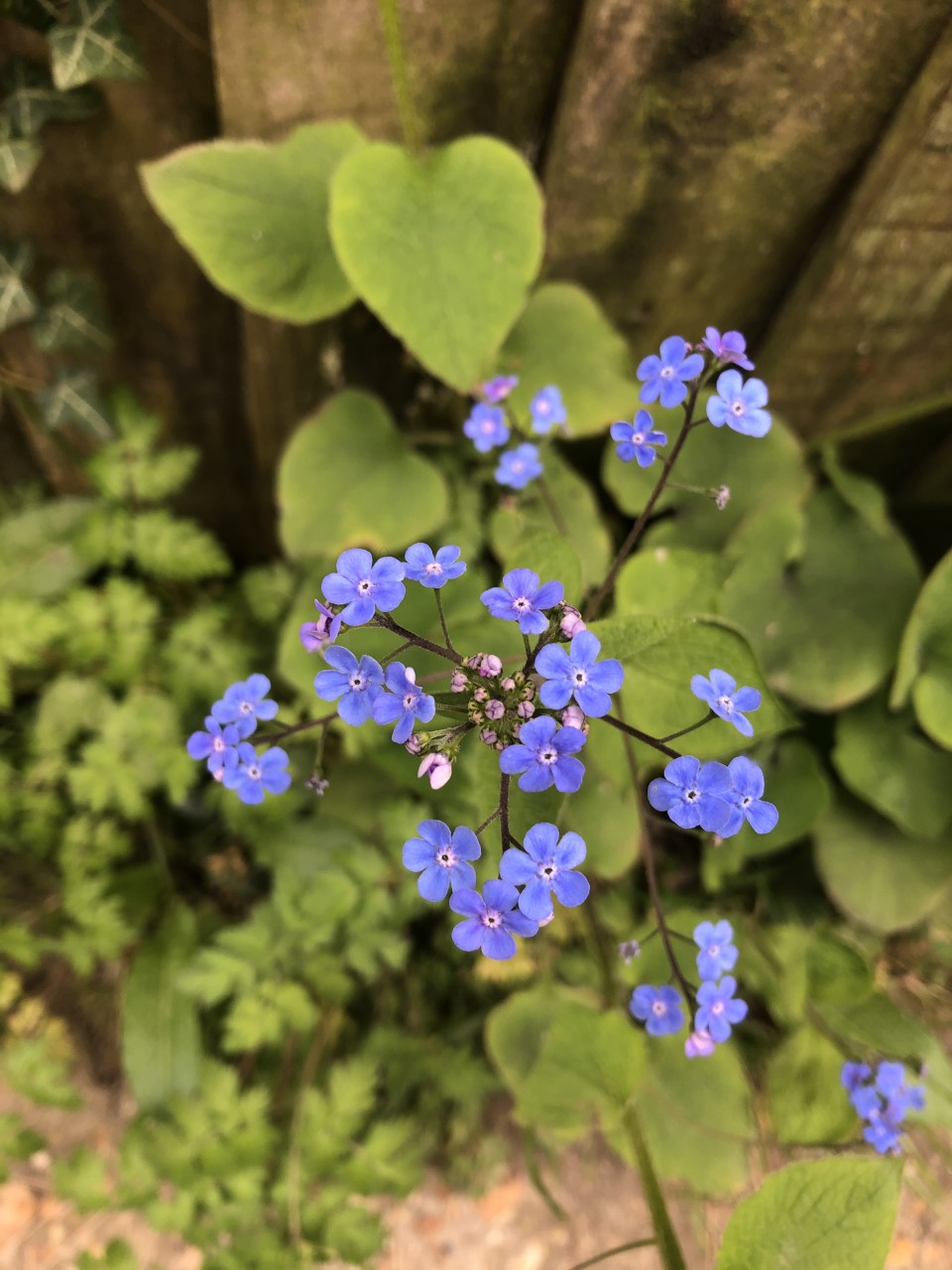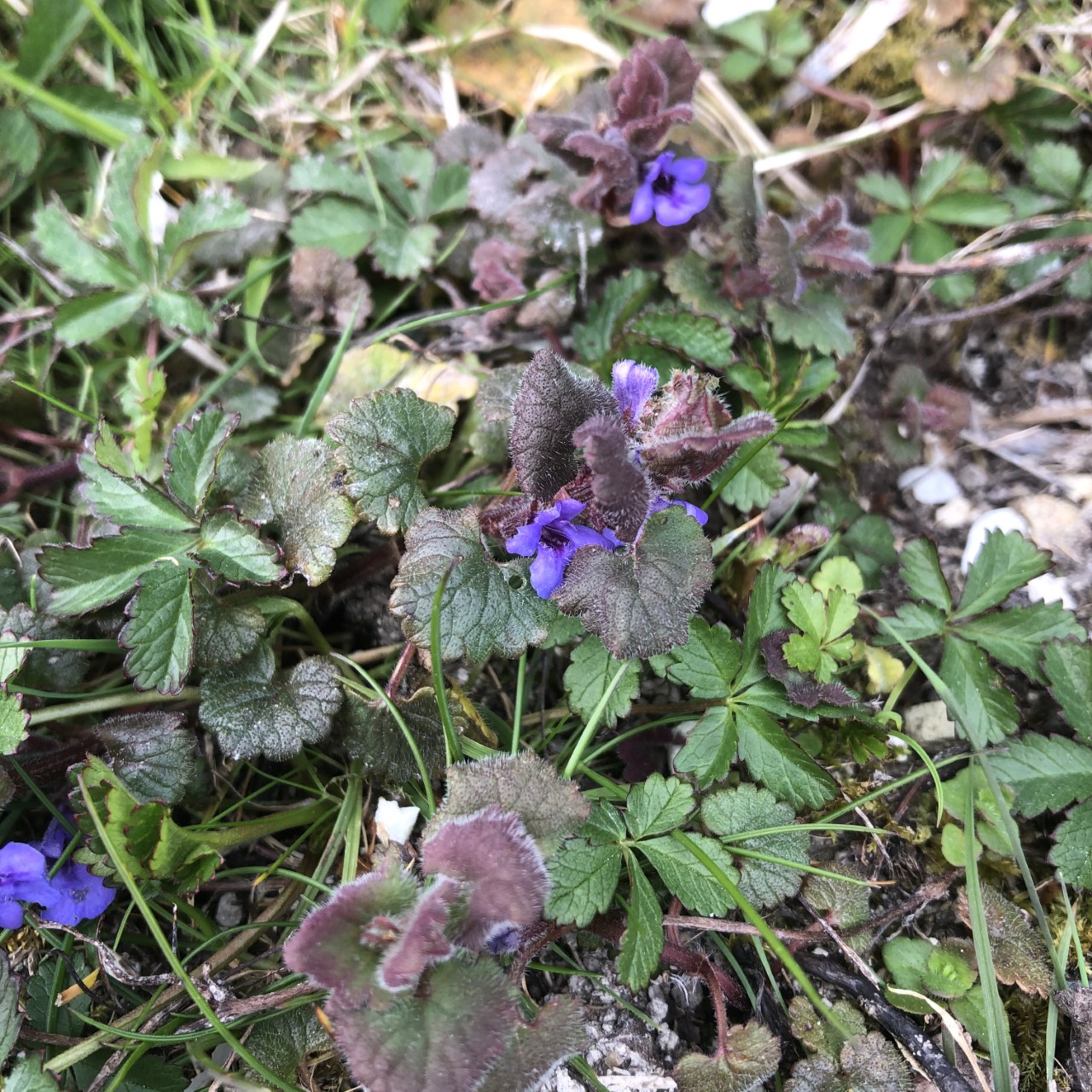 Perhaps you could take some pictures on your walk too (there are lots of lovely wildflowers around the edge of Chalvington Fields), or have a go at drawing the ones above. You could even use the spotter sheets here to help you identify them. There are spotters sheets for anything you might be interested in, so they are well worth having a little look at:
https://www.wildlifewatch.org.uk/spotting-sheets
Maybe you could make your own spotter sheets? I'd love to see them if you do!
Find out more about how plants grow here:
https://www.bbc.co.uk/bitesize/topics/zy66fg8
If you haven't had a go already, how about making or drawing your own rainforest flower? Maybe you could compare them to British wildflowers: What's the same? What's different? Why do you think that it?
Maybe you're a bit of a bird fan like me and would like to find out more about what they're up to at this important time of year. I found out the other day that during courtship (when an animal is trying to find a partner to have young with), a male robin will feed the female. A bit like taking her out for dinner really - how romantic!
I couldn't believe it when I got home from my walk and found this tiny little thing on my doorstep.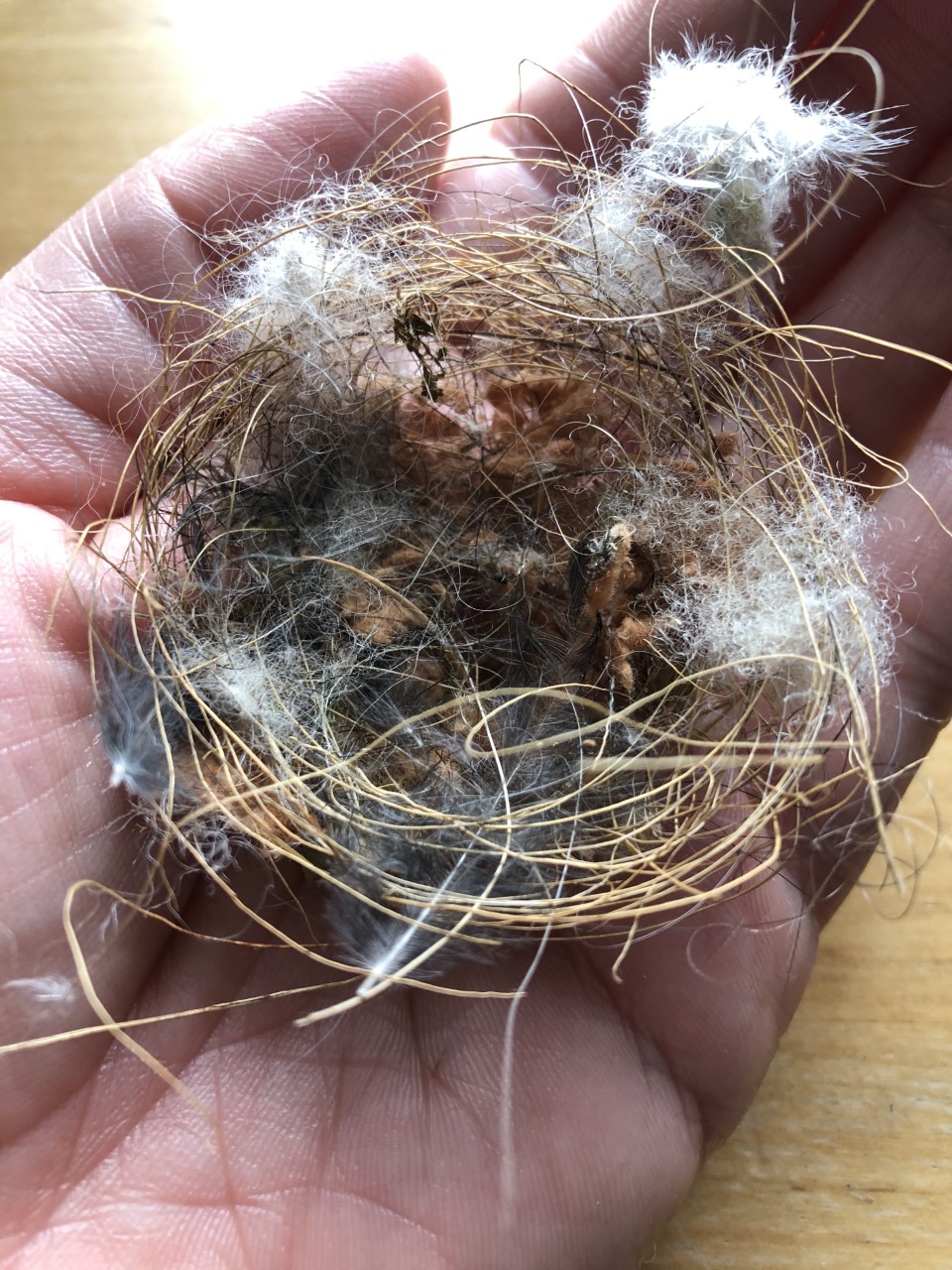 I can only assume it's blown from the place it was built. I'm not sure which bird made it, but I wonder if you can use the clues from this site to help me find out. If you think you know, email me, letting me know which clues you spotted. Just in case you can't see very clearly, it has feathers, sheep fleece and something like loft insulation in it, bound together with some sort of straw I think. It really is very tiny and delicate - I'm not entirely sure it was complete.
https://www.discoverwildlife.com/how-to/identify-wildlife/how-to-identify-garden-bird-nests/
Check out these livestreams from school nest boxes across the country:
http://www.seenature.org.uk/school-zone/school-streams/
You can also see all sorts of birds nesting (including some magnificent birds of prey) and some other wildlife too, here:
https://www.wildlifetrusts.org/webcams
You can also watch animals from different farms and zoos around the world by following the links here:
https://www.countryliving.com/uk/wildlife/countryside/g31784857/live-animal-webcam-zoo/
If animals are your 'thing', check out these learning resources from Drusillas too:
https://www.drusillas.co.uk/education-at-drusillas/fun-activities-for-children?fbclid=IwAR3VZCdndF2WpnVFxX6Letr-YiNwX3QblzfB06nk-jZGko8i_f3z12bE2tI
As usual, we love hearing from you, so please do let us know how you're doing, what you've been up and if you need anything.
Stay safe x
23/4/20 - Reasons to be cheerful #11: Let's get mathletic!
Good morning everybody. While it may be a rather trivial matter in the circumstances, I know that I for one have missed my football and rue all of the sport that has been postponed over recent weeks. The Olympics, the European Championships, the Six Nations, the cricket... the list goes on! Never before has taking care of our mental wellbeing been more significant and often sport can provide that release. The NHS recommends that young people between 5 and 18 should get 60 minutes of moderate intensity physical exercise every day. Getting that daily exercise may not be so straightforward right now but, while we're spending prolonged periods of time inside, staying active is extremely important (at a safe distance, of course) whether that is walking the dog or going on a 5k bike ride. And 'why is that?', you may ask.
1) Exercise makes us tired (who knew!?) which helps us to sleep better. Now I don't know about you guys but I'm certainly a lot less grouchy after a good night sleep.
2) Physical activity releases feel-good hormones like dopamine and serotonin which also happens when we're exposed to sunlight and listen to music we love!
3) Being physically active helps us to manage our moods and anxiety through the release of cortisol. It also gives our brain something to focus on which can provide a positive coping strategy in difficult times.
Having limited outside space has made this a struggle for me but with a little bit of creativity, even the smallest of areas can provide a suitable workout space. Thankfully, I live next to Hove beach which would ordinarily be a perfect spot for a morning run or evening walk. Unfortunately, it is proving very popular right now meaning that social distancing is more challenging than the exercise itself! My solution is to set up a small circuit station that requires absolutely no equipment whatsoever and no matter what your fitness level is, you can get involved.
1) In your outside space, mark out a square with sides of approximately 2 metres (feel free to make larger/smaller to change difficulty). If you - like me - don't have any cones handy, use anything! The jumpers for goalposts approach works here.
2) Starting on a corner, run one lap of your square. Then perform a routine of one squat, one burpee, one star jump, one push up. You have now completed LEVEL ONE.
3) For level two, you need to do two laps of your square and then two of everything in your routine and so on!
Let me know which level you are able to get up to and feel free to customise your routine. Maths question: If I get up to level 13, how many laps of my square will I have done in total?
This seamless little segway brings me nicely on to the next part of my blog. Sport and learning go hand in hand! For instance, think of all the numbers we see in football! What a fabulous opportunity this is to grow all of our muscles - including our brain!
The lovely people at Premier League Primary Stars have been producing resources for a while now. You can access their home learning page here. There is currently a module on Handling Data in Football presented by Countdown presenter Rachel Riley that might be a fun task to complete. There is also the opportunity to produce your very own customised Match Attax card.
Our friends at Albion in the Community have also been busy producing an excellent range of football-themed resources. Their home learning page includes video workouts, maths tasks and challenges for children to complete. I feel like I want to get involved myself!
Another source of amazing football resources comes courtesy of the excellent publication When Saturday Comes. They have provided a lot of the content from their magazine for free. There is a great wealth of activities for children to complete here. I've already done the Fantasy 5 a side task. See my attempt below and let me know if you think your team could take mine on!
As I mentioned in my book blog back in March, author Tom Palmer is doing a live reading and Q&A today about his Roy of the Rovers book series. If you didn't catch it, you can catch the highlights on the Roy of the Rovers facebook page. If you're quick, you can still download his book 'Scouted' from here.
There is a wealth of books out there to fill that sport-based void in our lives. I've included a selection below that I have read and highly recommend!
Right, time to blow the final whistle on this blog post. I really hope you have found it useful.
Stay in touch, stay safe, stay active and stay smiling. Mr. Simmonds x
22/4/20 - Reasons to be cheerful #10: Planet Earth
Happy Earth Day to you all, lovely readers!
If you'd like to celebrate Earth Day today, how about trying one of these activities:
https://happyhooligans.ca/23-earth-day-crafts-treats-activities-kids/?fbclid=IwAR3M2ihIwxzvMPnUgQr1jL0vP8clIi7a2sI7UBGLXHJQEP4m_g9bQN3EnME
https://rhythmsofplay.com/celebrate-earth-day-every-day/
If you're inspired by the tree planting idea, how about having a go at planting an apple seed like Miss Sheridan has. Check out how well it's growing (it's the one on the left - the other is a bonsai):
You can also try planting seeds from your tomatoes, strawberries and squashes. Tomatoes and strawberries would probably work well on a sunny windowsill if you don't have a garden, but tomatoes can get quite tall!
It's another beautiful day out there, perfect for helping these things to grow. How lucky are we to have had so much sunshine? Sunny days are just one of the many things that we can admire about life on planet Earth, but it's not just the days which hold many wonders for us. Our view at night from our wonderful planet can be pretty awesome too! If you head out into the night this evening, you will get another chance to see the amazing satellite train which is gracing our night skies and putting on quite a show. They have been thrown into orbit through a scheme devised by SpaceX (a company owned by millionaire entrepreneur and engineer, Elon Musk) which is attempting to provide a global broadband internet service. The show is predicted to begin at 9.37 this evening and will last for approximately 6 minutes. You can find out more about when they will be passing here:
https://james.darpinian.com/satellites/?notification&fbclid=IwAR2db0Tjxfm41kVBuVpLLbBLNjmSO6_Sad4IxQJyf_vmMzEnhSRBrjN_HeQ
Tomorrow night, you'll be able to see the moon as a very skinny crescent, which is known as the new moon:
And although the Lyrid meteor shower peaked at around midnight last night, you may well be able to see it until Sunday (26th April). Find out more here:
https://www.bbc.co.uk/newsround/52355142
If you are lucky enough to see a shooting star, don't forget to make a wish!
As if all of that wonderment were not enough, you can also see Venus glowing incredibly brightly all month as well as the Pleiades star cluster which is made up from around 3,000 stars glowing 444 light years from Earth. The brightest, clearest stars are known as the Seven Sisters, just like our beautiful local landmark. Find out more here:
https://www.bbc.co.uk/newsround/52323202
We hope you're all safe and well. Don't forget that we LOVE hearing from you, so feel free to email us (thank you to those of you that already do) just to say hello or share any of the brilliant things you've made or work that you've done.
Be kind to yourselves and the planet, lovelies. Catch you later x
21/4/2020 - Hello from Mrs Topp!
How are you all?
Did you guess which flower the picture was of in my last Blog?
It was the inside of a tulip. So many different patterns and colours in a small space – beautiful!
Here's another mystery picture for you.
What is this a part of? Answer in my next Blog.
The garden and countryside are great places for getting really close up to all the wonders of nature. It's lovely having the time to really look at nature and spot the differences in the garden each morning, as well as hearing all the amazing variety of bird songs. I'm trying to learn to recognise each song and the bird that sings it. Here's a website to help you identify the different songs. https://www.woodlandtrust.org.uk/blog/2019/04/identify-bird-song/
The embroidery is coming on well as you can see, although I've had to call on my mum for more thread as I was running out of colours. Luckily, she has loads to send me.
I'm also halfway through a puzzle which is spread all over the dining room table! It's great fun. But I'm not looking forward to finding out where all the 100 blue pieces go – they all look the same at the moment. Help!
It would be great to see what some of you are up to and to hear how you are getting on with home learning. I know it's a challenge, but challenges are what help us to grow, making us stronger and better people in the long run. If we don't overcome hurdles each day, we go to bed the same as when we woke up – none the wiser! Even if we can't overcome the challenge on one day, we get closer each time we try and that builds resilience, perseverance and ideas as we explore ways to meet the challenges we face. So, don't give up! Keep trying! Surprise yourself!
At the moment, I'm reading a book about a girl who faced many challenges in her life, from when she was very small until she was an adult. She was determined not to let any of the difficulties she faced beat her and she became a great writer and supporter of others in need.
As I've now taken many photos, and will continue to do so, of particular things I've done and noticed during this lockdown period, I thought I might put them all on a 'Lockdown Journey Tree' as a reminder of all the positive things that have happened and will happen during this time. You could do the same. Either draw a tree or collect some sticks and put them in a jar or pot, then hang (or stick) pictures, words, names from the tree. You can then add to it each day.
Have fun learning, discovering and playing.
Mrs Topp
20/4/2020 - Reasons to be cheerful #9: Here comes Summer!
Happy Monday everyone and welcome to Term 5! Mrs. Keith has sent an email around about the home schooling resources that are being launched today by BBC Bitesize and Oak Academy. The links to these fabulous resources can be found below. As always, the health and wellbeing of you and your family is the number one priority right now - there is no pressure to complete this work whatsoever. However, should you choose to give it a go, please do not hesitate to ask us if there is anything that you are unsure of. Please appreciate that these resources have been put together in great haste and some mistakes have been identified already so we are all on hand to explain anything that doesn't make sense or needs checking. We'll also be sure to flag anything we notice! Have fun with it and please do share any work you complete with us!
This week's timetable for Year 4: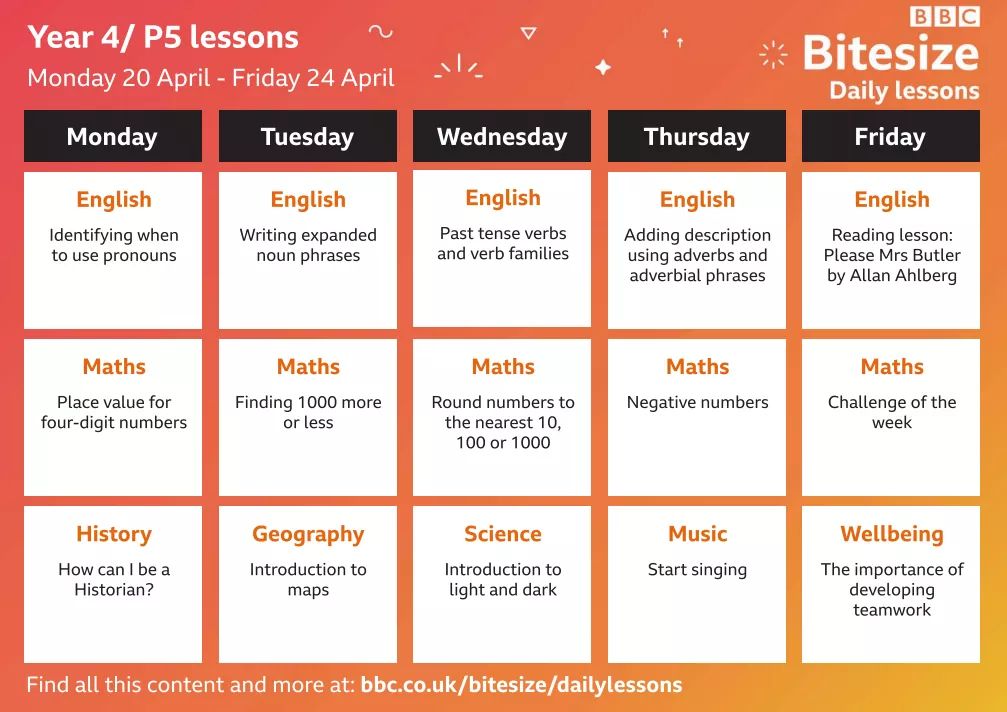 This week's Maths focus on the Oak Academy is Area and Perimeter which would provide a good opportunity to consolidate learning from earlier in the year. For English, there are sessions on the features of poetry as well as a poetry-based reading comprehension while the spelling and grammar focus is on homophones and expanded noun phrases.
At the link above you'll find a range of resources linked to the Computing curriculum where children will develop their programming skills by debugging faulty algorithms.
***
We hope you've been joining in with the Thursday night show of appreciation for our NHS. Often, distressing times can bring the best out in society and the miracles that our frontline medical staff perform each day as well as the inspirational achievements of patrons such as Captain Tom Moore continues to fill me with immense pride. At a time when we may feel isolated and lonely, the weekly applause has brought quite a lot of comfort and has gone some way in providing that sense of community that had been lost. Knowing that loved ones several miles away are also taking that moment to clap makes us feel that little bit more connected. Without getting too spiritual or 'Brian Cox' on you all, another comforting source of awe and fascination for me over the past few weeks has been the skies above! Has anyone noticed how clear the skies have been lately? Since the beginning of the month, there have been some spectacular sights in the night sky including a super moon and multiple flyovers by the International Space Station. Well, by chance, last night as I was putting the rubbish out I noticed something sparkling brightly up above; no, it wasn't Superman or a Flying Ford Anglia! It was a mysterious chain of over 40 satellites orbiting the earth. They were so vivid and clear that I could see them with my unaided eye. Sadly, I didn't have a phone in my pocket but there is a website below where you can track their movements. Perhaps I'll have more luck with a photo next time. If you'd like to track the ISS and other satellites, you can do so at these links:
***
Back on the 30th March, I posted some free resources provided by ORCA Web. They have since released 7 further lessons for you to complete which can be downloaded below. Hope you find them useful!
Lesson 5 video Lesson 5 worksheet 1 Lesson 5 worksheet 2
Lesson 6 video Lesson 6 worksheet
Lesson 7 video Lesson 7 worksheet Lesson 7 answers
Lesson 8 video Lesson 8 worksheet Lesson 8 answers
Lesson 9 video Lesson 9 worksheet
Lesson 10 video Lesson 10 worksheet Lesson 10 answers
Lesson 11 video Lesson 11 worksheet
***
While I'm here, I'll invite you to our weekly Wednesday Kahoot quiz. I firstly feel obliged to apologise for the music round debacle although I did find it pretty hilarious that everyone was too polite to mention they couldn't hear the music! Rest assured, this week's quiz will be an audio-free zone!
There will, however, be questions on:
Formula One, animals in film and children's literature, world records, world landmarks, 2010s trends, rainforests, football stadiums, maths, on this day, Disney and - back by popular demand - the dog breed round returns! "WHAT ABOUT HARRY POTTER!?" I hear you scream at your laptop. Don't fear, young muggles, I've sneakily hidden a few HP themed questions in amongst other rounds! The link is below (remember to email Mr S for the password).
See you Wednesday. Love to you all, Year 4 team x
YEAR 4 EASTER EGGS-TRAVAGANZA!
By this time of year, we would usually have had a wonderful Easter bonnet parade and an Easter egg hunt too, but just because we can't be within bunny-hopping distance of each other, it doesn't mean that we have to miss out on Easter fun! So, we're inviting you to Year 4's very own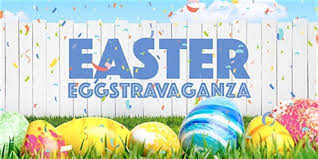 It's really easy to take part. All you have to do is find a cool and creative way to decorate an egg or use your imagination to create something Easter themed and send us a picture of it to share with the rest of Year 4.
Maybe you could go old-fashioned and learn how to blow, dye and decorate eggs like they used to when I was a girl:

https://www.bbcgoodfood.com/howto/guide/how-blow-eggs
https://www.realsimple.com/holidays-entertaining/holidays/more-holidays/dye-easter-eggs
You could turn your egg into your favourite book or film character and create a diorama for it to 'live' in: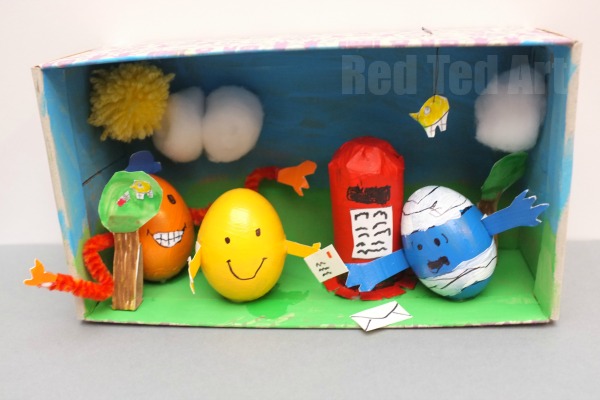 You might like to bake some Easter themed cookies and decorate them? You could try this simple recipe:
https://www.bbc.co.uk/food/recipes/icedbiscuits_3054
Or make salt-dough decorations for your very own Easter tree:
A basic salt-dough recipe can be found here:
https://www.bbcgoodfood.com/howto/guide/how-make-salt-dough-recipe
You might find a creative use for an egg box, like this lovely Easter wreath, proudly sitting on my friend's front door at the moment:
You could make a paper mache egg and decorate that. Maybe you could turn it into an Easter pinata, hide it in the garden for an Easter egg hunt or cut it open like these ones and put little treats inside:
Perhaps you've already got an amazing Easter bonnet laying in wait for its moment to shine.
You might decide to simply draw and decorate your own or colour in an existing design like the ones here:
https://www.redtedart.com/easter-coloring-page-grown-ups/
Whatever you end up doing, we'd love to here about it and showcase it on the website. Send your photos to your teacher by email:
perik@cradlehill.e-sussex.sch.uk
ashleys@cradlehill.e-sussex.sch.uk
alisonj@cradlehill.e-sussex.sch.uk
sues@cradlehill.e-sussex.sch.uk
We can't wait to see what wonderful creations you come up with!
Love from me, my very own Easter bunnies and the rest of the year 4 team x
Des and Emmie making mischief
15/4/20 - Kahoot
Hi everyone. Hope you all had a lovely Easter weekend and managed to get out and enjoy the glorious sunshine!
Our weekly Kahoot will take place, as usual, on Wednesday at 1pm.
This week there will be questions on...
Cat facts, dog breeds, music, Disney, viral clips (in the sense of the word meaning widely circulated online), football nicknames and catchphrases amongst others. Oh and before you think I've forgotten you Harry Potter fans, there will also be some questions on the wizarding world!
To join in the fun, please request the password from Mr. S and click the link below for the Zoom:
https://us04web.zoom.us/j/74619556300?pwd=eWpvd2h3WUcxQnh6MXV2dUhQK0ovQT09
Look forward to seeing you all!
Stay safe,
Mr. Simmonds
9/4/20 - Hello from Mrs Topp!
This weather is the best! I'm loving being out in my garden watching nature exploding into life. The flowers are just bursting out in a rainbow of colours, shapes and sizes. Can you guess which flower this is?
There is a garden warfare going on with the birds at the moment. Sparrows, robins and blackbirds all vying for their time at the feeder. They love the seeds, mealworms and fat balls but are refusing to touch the peanuts even when I hide them in among everything else. They just spit out what they don't want!!
Last week I finished colouring in the NHS mindful picture from the paper ( you can down load a copy to colour in here https://www.pavilionbooks.com/2020/03/28/millie-marottas-love-nhs/). I now have it displayed in my window along with one of my boys' (now a young man) teddy bears. I have also decided to start embroidering a version of it. Here's where I'm up to:
It's very therapeutic as I'm soon lost in looking at the pattern, choosing colours and trying not to prick my finger! It's also reminding me of my mum and grandma. My mum because she sent me some of her threads, as I couldn't get out to get any more of my own and my grandma because she would not be happy with the knotty tangle that my threads have got into! .
If you haven't had a go at the link to the daily puzzles – do. There are 3 timed levels and a different picture every day. They're great fun and good for working all sides of your brain at the same time. I can only manage the normal level at moment:
https://puzzles.msn.com/en-gb/games/daily-jigsaw?arkpromo=topsites_dailyjigsaw_202003026
Off to bake a sticky toffee pudding now.
Hope you are having lots of fun.
Mrs Topp
8/4/20 - Kahoot
Hi everyone, just a short blog post from me today with the link for today's Kahoot. From this week, you will need a password to access the quiz. Please email me if you wish to participate and I'll send it across to you. I'll also be locking the quiz at 1.15pm so try to be punctual if you can.
https://us04web.zoom.us/j/951141527?pwd=b0NreTNXQlpEdUx6UFNDNFkxUVJ1QT09
There were multiple requests for a Harry Potter round last week and I was only too happy to oblige! As well as the usual sport, music and maths rounds, there are questions on geography, science and anniversaries - not to mention a sprinkle of assembly nostalgia!
To keep you ticking over until later, here's a classic Harry Potter joke which both HP nerds and grammar nerds can enjoy!
What's the difference between Crookshanks and a comma?
Crookshanks has claws at the end of his paws and a comma is a pause at the end of a clause.
Think you can do better? Send across your best joke and we'll feature the pick of the bunch. See you at 1pm, guys! x
7/4/20 - Reasons to be cheerful #8: Food, glorious food!
My nan loved to feed people. She ate like a pigeon herself but, oh my, did she like to feed people! We'd head to see her on a Sunday and would be greeted by wafts of loveliness, seeping out of her little blue and white kitchen. We'd settle down at her table, pulled out especially for us, right in the middle of the lounge and be presented with great swathes of food. She'd start with a lovely roast (if I try really hard, I can still taste her roast potatoes) with plenty of veg and light, fluffy yorkshire puddings. This was unmistakably delicious (she was a great cook), but it was what came next that really made my mouth water and gave me a tooth sweet enough to last a life-time.
My cousin was a real fuss-pot and he didn't particularly like sweet food, so he'd always plump for tinned strawberries which was fine by me - one less person to share the good pudding with! Not wanting to disappoint anyone with her offerings, out would come dessert for everyone else: spongy cake filled with fruit and rolled in nuts, moist gateaux, expertly rolled roulade, meringue laden with fruit and cream, eclairs smothered in chocolate... you name it, it was there. It was like sitting in a patisserie (posh cake shop, to you and me!) and being able to eat anything you want. Like the cake version of Willy Wonka's chocolate factory! It must have taken her days to prepare all of that and she'd never let you go home without giving everyone all of the leftovers! Not that you could move very far for a good few hours after the meal.
Some of my earliest memories are of being in that kitchen, standing on the yellow chair she'd sit on to have her first tea of the day (one of many!), baking up a storm with her, watching as she skillfully added ingredients to the mixing bowl without ever needing to use scales. I even have a vague recollection of us making Easter eggs together. She was brilliant.
I'm not sure if it's just because of these experiences but, for me, food is about so much more than just feeding and nourishing us; it's about creating memories together and showing others that we love them. This is such a strange time for us all at the moment, but what I do love about it, is that it gives most of us the opportunity to stop for a moment and do something we love, make these kinds of memories with the people we care about and show them that we love them.
I love cooking for other people, but rabbits can't eat cooked food and friends aren't allowed to pop by for a slice of cake and a cup of tea at the moment, so I thought I would try to find a way to share food with the people I care about (that's you, by the way). So here it is: the recipe for my nan's lemon drizzle cake: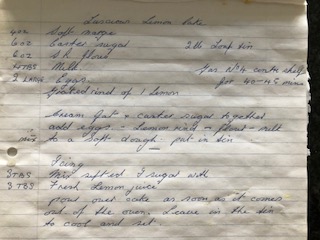 It's never been shared with anyone other than family before, but I thought you might appreciate it and that it would give you something nice to do with your family over the Easter break. The lemon can be replaced with (or complemented by) orange if you'd rather and it also works well with a handful of blueberries or raspberries too (frozen work particularly well). Just remember to prick the cake quite deeply when it comes out of the oven (I just use a knife) and drizzle the lemon juice and sugar mixture on straight away so that it really soaks into the cake. Delicious!
Something else that this situation has highlighted to me is how brilliant it would be to be a bit more self-sufficient (being able to grow or produce your own food). Even just something as simple as popping into the garden to get fresh herbs to add to dinner or being able to get fresh eggs from friends with chickens would mean being just a little bit less reliant on supermarkets. If you already happen to have some seeds for growing your own fruit, veg or herbs at home, maybe you could have a go at sowing some over the next couple of weeks. You might even be inspired by one of these creative containers: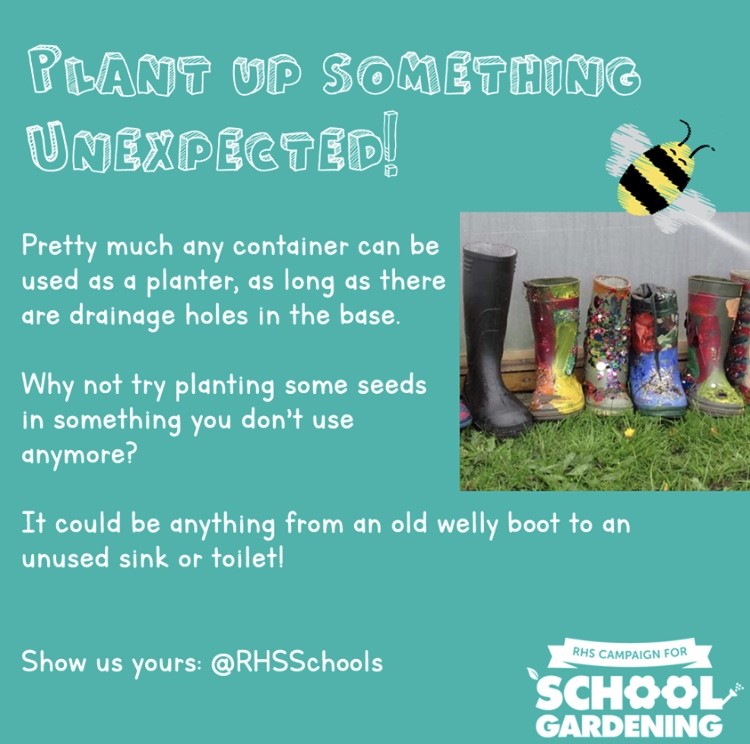 If you don't have any seeds at home, don't panic! Did you know that some vegetables will regrow, given the chance? Check these out:
While we're giving thanks to the many amazing people out there keeping things going so that we can remain relatively comfortable, spare a thought for our busy farmers who are working hard to get food into supermarkets and in some cases, direct to our doorstep. Now is the perfect time to have a think about where our food comes from. There are some great resources for you to find out more, here:
https://www.foodafactoflife.org.uk/7-11-years/?siteId=15&t=2
http://www.virtualfarmwalk.org/teachers.html
https://www.countrysideclassroom.org.uk/resources?audiences=8-9
Whatever you decide to do, focus on making memories and showing those around you that you love them. And if you fancy sharing photos with us, or telling us more about what you've been doing, please email us - we love hearing from you.
Happy baking/ eating!
Miss K x
4/4/20 - Reasons to be cheerful #7: A whole lot of history
I have to admit that yesterday was tinged with a little bit of sadness as it suddenly occurred to me that it was the day that would have marked our Year 4 performance and Cradle Hill's Got Talent. Shortly after this realisation, I received a swift succession of emails that immediately raised my spirits and reminded me of the outrageously talented children we have in Year 4 at Cradle Hill. If you haven't already noticed, our Home Learning celebration page is filling up nicely with wonderful examples of the learning that has been taking place at home over the past fortnight. Please keep those emails coming! I think I speak for all of the Year 4 team when I say they really do brighten up our days. It has also been delightful to see so many smiling faces online over Zoom so huge thanks to those of you who joined us for the Kahoot quiz (FYI, we will be running a weekly Kahoot online every Wednesday at 1pm) and the Sam Copeland stream. Shout out to those of you who have sent me thank you notes and letters for Sam - it was actually his birthday yesterday so please do keep them coming in!
Now, as a PE lead, I am incredibly grateful to Joe Wicks for keeping the nation active throughout this time of isolation and Miss Rogers has duly taken on the baton for Cradle Hill with her superb dance videos (nice little plug for you there, Miss R). I therefore thought it was time to stop neglecting my other subject and direct you all to some resources for History.
History. You mean those dark days when they didn't have Tik Tok or reality television? Boring, right? Wrong. In these unprecedented times, history is unfolding before our very eyes. As we speak. So often throughout the past, it has been written accounts that have provided the most authentic insight into what life was like in different periods of time - from Samuel Pepys to Anne Frank. While we now live in the highly-documented age of the internet, writing can be a liberating and cathartic outlet (as I've found with these blogs posts). Therefore, I would encourage you all to keep a diary or create a time capsule to capture this bizarre chapter in history where the world turned quiet and everything stopped. Who knows, one day you may be telling your grandchildren all about it and you might even be remembered as the Samuel Pepys of the 21st century! There are some useful ideas to get started here.
Workshop guru 'Mr. B' has been doing daily 15 minute history lessons on Facebook and YouTube which are totally captivating and - best of all - free. He covers a wide breadth of topics (most recently the Stone Age) but he also uses themes and concepts to make comparisons across different eras of history. For instance, Friday's video was about headgear through the ages which is especially of interest to Year 4 through the references to Romans and Vikings. At the end of each video, Mr. B sets a selection of short tasks for children to complete. You can check him out here.
If you can't get to the museum, let the museum come to you. The incredible Smithsonian National Museum of History has opened up its doors online to the world. Take a virtual journey back through time by clicking here.
The Historical Association is another valuable resource and they have kindly produced a sharing hub filled with activities to try at home. You can access these here.
Lastly, I'd like to remind you of the Viking Longship challenge set by Ernie's dad. For more information, see the Year 4 Home Learning celebration page. I cannot wait to see what ideas you all come up with.
The strangest thing happened to me on Thursday night at about 8pm. All I did was pop out for my daily exercise and I had hundreds of people leaning out of their windows and balconies cheering and applauding me. I suppose news about the blog must have travelled, I don't know?! In all seriousness, the courage of our key workers and extraordinary NHS continues to fill me with immense awe and pride and our school will continue to support them by remaining open over the Easter break. However you choose to spend the Easter holiday, please remember that we are also here to support those of you who are at home so do not hesitate to email if you need us.
Wishing you all a happy Easter. Stay safe and keep smiling. Mr. S x
3/4/20 - Reasons to be cheerful #6: Technology
I know it's hard to believe, but I was born before the internet. Shocking, huh?! Don't answer that. It's a rhetorical question! I was born donkeys years before YouTube, Fortnite, Minecraft, Google, email and iPads. When I was born, mobile phones weighed as much as 5 bags of sugar. Imagine that: 5 bags of sugar! And phones certainly didn't have cameras built in. In fact, cameras themselves still carried film, music was played using a cassette tape and films were watched at home only on VHS tape. At school, we didn't have trolleys filled with laptops and Chromebooks. We had one clonky computer in the whole school. One! And any time our teacher wanted to show us a video clip, we all had to traipse down to a library filled with taxidermy to watch an actual video cassette on a great chunk of a TV which had its own set of wheels.
This will all seem very strange to you, I'm sure, and half of you probably have no idea what I'm talking about (parents and carers, I've probably brought back a few memories for you!) because things changed so very quickly in a relatively short period of time. In contrast to the best part of 40 years ago, nowadays we are surrounded by visual and audio technology which can be both a blessing and a curse.
It means we can't get away with doing anything daft without someone recording it and, unless we leave our phones at home, we can't escape incessant notifications for this and that. Our ability to access information so easily can be especially difficult when there is a lot of news around that we might need to avoid to help our minds stay healthy.
On the other hand, the technology at our finger tips can also be wonderful because without it, it would be more difficult to see little things like this which make us smile:
https://www.bbc.co.uk/news/av/world-australia-52000441/coronavirus-melbourne-zookeeper-s-livestream-dance-goes-viral
And when we're having to distance ourselves from our friends and family, it can make it easier to feel that little bit closer. Isn't it great being able to call, message, FaceTime or Skype a friend or relative that we miss? Or to be able to make a silly video to cheer someone up who is feeling down? And I'm sure you're loving being able to play online with friends using headsets so you can still chat to each other while you play! It means you can stay in touch with your teachers, you lucky things, and your families can find amazing, interactive learning resources for you. It also provides hours of entertainment: You can read books online or on a Kindle, listen to audiobooks for free;
https://www.worldbookday.com/world-of-stories/#fiction
https://stories.audible.com/start-listen
https://www.worldofdavidwalliams.com/elevenses/
Watch inspiring animations;
https://www.literacyshed.com/home.html
Or even make your own. Perhaps you could make plasticine models or puppets like these and try out a free stop motion animation app;
Or you could try your hand at coding (parents/ carers, please be aware that Scratch is an open forum- anyone can contribute content – so it is worth checking what children are looking at if they are playing games made by other users);
https://projects.raspberrypi.org/en/codeclub
(Thanks for the recommendations, Mr Passingham!)
Whatever you decide to do, don't forget how important it is to stay safe online. You could have a look at the resources here to remind you:
Remember, if you wouldn't say something to someone face-to-face, you shouldn't say it online. And, if you see something that upsets you, let an adult know straight away so that they can deal with it appropriately.
Wherever you are and whatever you're doing, be kind, be safe, be SMART:
Make someone smile today: use technology to make their day x
2/4/20 - Reasons to be cheerful #5 : Spring
It's all a bit strange at the moment, isn't it? Everything seems to have stopped. Or at the very least been postponed: Football (don't worry Mr S, it'll be back soon enough!), rugby, the Olympics, film releases, the ability to just pop to the shops or to a friend's house, the use of playgrounds... The list goes on. However, there are some things that just keep going. Things that we would usually take for granted, perhaps: the stars still shine at night, the rivers still flow, waves still crash on the shore and the seasons still continue to change.
For me, spring has been a reason to be cheerful this week. I love the newness of it all, the longer days, the sunshine, the flowers pushing their way through the soil, the lambs (so cute!), birds busying themselves in preparation for their chirping, squawking new arrivals, the migratory birds returning, the colour bleeding back into our lives after the dreary months of winter. It's a beautiful time of year and what better time to appreciate it than when everything else has stopped for long enough for us to enjoy it.
If, like me, you've been trying to get some exercise outside every day, you might have begun to notice the signs of spring yourself. The first lambs I saw this year were around Seaford and I'm sure they're starting to look delightfully chunky by now! The farm near me, however, have only just started to lamb so I was excited to see their days old young dancing and bleating their way across the field or snuggled up with their mum (the ewe) and siblings.
You can see a little video of them from my walk here:
If you've ever been taught by me, you might already know that to complement my love of rabbits and nature in general, I'm also a bit of a bird geek. I love heading out for a walk with my binoculars and seeing what's around. It's a great excuse to just stop our busy lives and appreciate the little things that we might usually miss: an opportunity to be totally present 'in the moment'. The changes in seasons are always exciting times in the birding calendar as that's when migratory birds (birds which move from one country to another for a season or two) leave or arrive. Birds like the chiffchaff, which is a tiny little warbler who can usually be heard waaaayyyyy before you'll spot him! This week I heard my first of the season: a sign that warmer weather is on its way! Next time you're out for a walk, see if you can hear one too. Follow the link below to find out what they sound like. Their call is unmistakable and sounds just like their name 'chiff-chaff':
https://www.rspb.org.uk/birds-and-wildlife/wildlife-guides/bird-a-z/chiffchaff/
Swallows and swifts will start to appear soon too and I know the areas around Seaford are fantastic for spotting them. If you're not sure what you're looking for, have a look here. They are fascinating creatures with the most amazing skill and stamina:
https://www.rspb.org.uk/birds-and-wildlife/wildlife-guides/bird-a-z/swallow/
https://www.rspb.org.uk/birds-and-wildlife/wildlife-guides/bird-a-z/swift/
I was also delighted to hear the yaffle (I promise I haven't just made that up! Parents/ grandparents, do you remember Professor Yaffle from Bagpuss? This is where he got his name!) of a green woodpecker, which then landed in the field next to where I was walking! Their name suggests that they peck wood, but although you might well see them on trees, you're far more likely to see them pecking at the ground, trying to extract ants from their nest using their ridiculously long tongue. Their call is also quite unique - hear it here:
https://www.rspb.org.uk/birds-and-wildlife/wildlife-guides/bird-a-z/green-woodpecker/
Turning my eyes skyward, I also spied magnificent buzzards - not just one, but 4! - wheeling around, riding the thermals, effortlessly graceful. Sadly, I couldn't get a photo of those to share with you, but if you like birds of prey, you can find out more about them here:
https://www.rspb.org.uk/birds-and-wildlife/wildlife-guides/bird-a-z/buzzard/
I came back from my walk and was feeling quite pleased with myself for having spotted so much and then remembered a lovely notebook my friend bought me a while ago. I decided that now was as good a time as any to get a nature journal started, so I'll be sharing snippets of that with you over the coming weeks. I'd love to see yours too if you're inspired to get going with your own. Mine will probably focus on birds and farming as that's what I'm most interested in, but there's no reason why yours can't be about plants or minibeasts, foxes, badgers and hedgehogs or bees and butterflies. You don't have to record in words like I have, you could record in pictures, perhaps just one thing that you've seen each day, maybe using the sketchbooking techniques you learnt about last term. You don't even need to step out of your front door- you can do it all from the comfort of your sofa. In the time that it's taken me to write this, I've seen a starling collecting nesting materials, hopping along the telephone wires outside my house and a goldfinch stealing seeds from the horse chestnut tree too. Whatever you create, you can email me parts that you're proud of at perik@cradlehill.e-sussex.sch.uk - go on. Make my day!
Here's a section of mine (by the way, the picture is supposed to be a lamb!):
We hope you're all well and happy. Catch you tomorrow x
1/4/20 - Spelling test
Right guys.. enough is enough. It's time for our weekly spellings. Spelling books out, 1 to 5 in the margin, please.
Give yourselves a mark out of 3 and send to me by 9pm on 1st April please.
1/4/20 - Kahoot
It really has been lovely to see so many of you guys on Zoom this week and I'm looking forward to seeing you online for our Year 4 Kahoot this afternoon at 1pm. Without giving too much away, you may even get to see some embarrassing photos of your teachers!
To join in, you'll need to do one of two things:
1) Run Zoom and the Kahoot quiz in separate windows (on PC/laptop)
2) Run Zoom and the Kahoot quiz on separate devices
I'll be sharing my screen (with the questions shown) on Zoom so you'll need to either have your Kahoot up on another device or in another window on your PC or laptop. To join the Zoom, click the link below. Once you're in our Zoom chat, I'll send the Kahoot code to you all!
https://us04web.zoom.us/j/815797624
If you're having difficulties, I'll help you via Zoom later :) see you at 1pm! Mr S x
31/3/20 - Sam Copeland stream
Hi everyone. I really hope you all enjoyed our live stream with Sam Copeland this morning. It was truly magical to see so many of your faces again! I am so thankful to Sam for giving up his time to read us the final chapter of Charlie Turns into a T-Rex and answer your questions.
If you weren't able to join us or if you'd like to watch the stream again, you can do so by clicking here.
To show our appreciation to Sam, I would now like you guys to create something for him. This could be a letter, a short story, a drawing (see my hastily thrown together example below) or frankly anything you can think of!
I'd also like to remind you guys that all of Year 4 are invited to a Kahoot quiz tomorrow afternoon at 1pm. To get involved, click this link at 1pm on Wednesday 1st April https://us04web.zoom.us/j/815797624 and I'll then get the Kahoot up and running! Hope to see you there! Mr S x
31/3/20 - Reasons to be cheerful #4: Animals
I don't know about you, but I love animals. Well, most animals. Those of you who know me well, know that I'd be lying if I told you I wasn't just a little bit scared of frogs and toads. Possibly not helped by the fact that when I told my mum this, she thought I was joking and chased me around the lounge with a frog that had hopped into the house one summer's evening! Don't get me wrong, they're lovely creatures that play a vital part in our ecosystem. I'm just not likely to pick one up for a cuddle anytime soon (*frogs/toads around the world breathe a sigh of relief!). Anyway, back to the point...
Animals are great. Whenever I'm feeling a bit rubbish, the buns are always there for a cuddle and it's only a matter of seconds before I feel my heart rate slow and my breathing calm, regardless of how stressed or worried I've been feeling. Dogs, cows, sheep, goats, alpacas (we could be here a while)...every time I see them, a stupid smile spreads across my face and my little eyes light up. I just can't help it. Even chocolate doesn't have that effect, and you all know how much I love chocolate! Whenever I go out for a walk, it takes me at least double the amount of time as everyone else because I want to talk to every dog I meet and find out their life story. To me, animals are one of the most wonderful things in life, so although there are plenty of things I am missing whilst in isolation, I am utterly delighted to be spending some more time with my lovely rabbits: My sanity savers, my smile makers, my furry little family and I hope you are making the most of the time you have with your furry/ feathered/ scaly/ slimy friends too.
Last week, one of our lovely mums encouraged me to try to keep up with tech wizards Miss Rogers and Mr Simmonds and asked me to do a video of my own. So here they are (yes, multiple!), my first foray into the world of YouTube. I apologise in advance for the terrible sound quality and camera work - I'm not sure I'll be making my millions as a world renowned YouTuber any time soon! If you, like me, love animals, you might enjoy finding out more about my furry friends. Before you watch, I want you to know that this is just my way of sharing something about my life, with you. The videos are not an advert for you to rush out and buy your very own rabbits. They are cute and fluffy, they make wonderful pets and I love them dearly, but they are hard work if you look after them properly, are very expensive and can live for 10-12 years (by which point most of you will be at University or may well be travelling the world!). There are currently 67,000 rabbits in rescue centres around the country, most of which have been given up because people are not quite aware of what they've taken on, which goes some way in showing you just how tricky they are to look after. Ok, high-horse dismounted!
Here are the videos. Listen out for tips about what you could do next and don't forget to email through anything you do do; I'd love to see what you come up with:
Looking After Bunnies:
https://m.youtube.com/watch?v=eGNuQcp5FLE
Dex and Dawn Exploring:
Speedy Bun 1
Des and Emmie: The Dreamers
If rabbits aren't your thing, maybe you might like to explore one of the zoos or aquariums currently offering virtual tours:
https://www.goodhousekeeping.com/life/travel/a31784720/best-virtual-tours/
Or how about getting up close to a wolf, penguin or tiger? Try out Google's amazing new AR tool which allows you to have your own pet panda (kind of!):
https://www.creativebloq.com/inspiration/googles-hidden-ar-tool-will-blow-your-mind
Did you know Deadly 60's Steve Backshall is also streaming Wildlife Chats regularly on YouTube? You can even ask your family to post questions for him to answer on his Facebook page. His next chat is tomorrow (1st April at 9.30am):
https://www.youtube.com/channel/UCm-URP49TgSgyIU1rgh2m7A
You might like to have a look at these amazing resources created by the RSPCA, a charity working towards better animal welfare. Here you can learn about animals in general and the amazing job the charity's investigators do:
https://education.rspca.org.uk/home-resources
Or delve into the brilliant animal activities on one of my favourite Science sites:
https://explorify.wellcome.ac.uk/en/activities
Maybe you might like to write a story about your pets, write a guide (or make a video of your own) about how to care for or train your favourite animal, make a set of Top Trumps, matching or snap cards so that you can play a game with your family, make a David Attenborough style documentary, write a 'Day in the Life of... (insert animal name here, or perhaps a pet owner or RSPCA investigator)' style story, create a comic strip or puppet show featuring your favourite animals or just draw a really beautiful picture of them instead. You could work out how much it costs to keep a pet for a year, use empty water bottles to make a set of animal skittles with your own scoring system, research the animal in their natural habitat and consider what makes them suited to that environment or make a labelled, scientific model of them. Whatever you do, I'd love to see it so please feel free to email me:
perik@cradlehill.e-sussex.sch.uk
I hope you're all well and hoppy...err, I mean happy :)
Until next time, it's goodbye from me and goodbye from them... x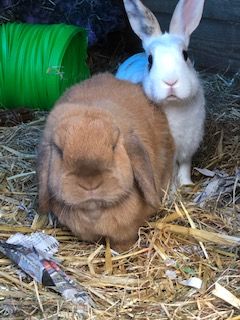 Dexter and Dawn
30/3/20 - Reasons to be cheerful #3: Year 4 fun!
Good morning to you all and welcome to week 2 of our home learning blog. I hope you've been managing to get out and enjoy the sunshine (in accordance with government guidelines, of course). Bizarrely, in Brighton, we had a dusting of snow yesterday.. although I'm not really sure that anything can surprise me right now!
I hope you're all excited for tomorrow's climax to Charlie Turns into a T-Rex. I know I am! Do you think Charlie will ACTUALLY turn into a T-Rex? I have my doubts, personally. Our Zoom test stream this morning turned into a YouTube masterclass courtesy of two of my tech-savvy Dolphins! Please spread the word about the channel and get those 'subs' up (is that the correct lingo?) It was a pleasure to catch up with the boys earlier so please do stay in touch. All of the year 4 teachers would love to hear about what you're all getting up to!
In this spirit, on Wednesday afternoon at 1pm, we are going to be hosting a Year 4 Kahoot Quiz with a Zoom stream running alongside. As well as Maths, English and History, there are rounds on sport, music and films. I assure you that this is NOT an April Fools joke! I've also sent Dolphins a RockSlam on TT Rockstars (just bear in mind that if you beat 45, I'm blaming my really old laptop!!) but relax guys, I won't be subjecting you to classic rock tunes as I do back at school! Feel free to 'rock out' in the comfort of your own homes though!
Use the link below to join the Kahoot Zoom on Wednesday at 1pm.
https://us04web.zoom.us/j/815797624
Meeting ID: 815 797 624
***
I've received some emails requesting maths resources. I just wanted to take this opportunity to direct you to the White Rose Maths website. The content on here is absolutely superb and fully compatible with the Power Maths scheme that children have been using in school. There are video tutorials for each lesson as well as activity booklets with answer sheets which is always handy! I have also set additional activities on My Maths. As we have maintained all along, please feel no pressure to complete all of this work; the health and wellbeing of you and your children is number one priority at this time.
For Geography, ORCA Web have generously produced some free resources for families to use. Conveniently, the lessons are related to Dolphins and Porpoises (although Sea Lions are of course welcome to join in the fun!) Below are links to a series of video lessons to watch on YouTube with corresponding worksheets to complete:
Lesson 4 answers a
As History lead, I'd also like to make you aware of the inspiring Mr B's 15 minute lessons on Facebook. You can access them for free at this link.
Lastly (and I'm aware I've rambled on for a while here!) I encourage you to join me at the live launch of a book I plugged in one of my posts last week. The inspiring 11-year-old author Libby Scott is doing a live Q&A for her new release 'Do You Know Me?' on Scholastic on Wednesday evening at 6pm.
To summarise:
1) See you tomorrow at 11am for Sam Copeland's live stream of CTIATR!
2) Get your questions in for Sam - email me at ashleys@cradlehill.e-sussex.sch.uk
3) Year 4 Kahoot quiz on Wednesday at 1pm.
Best wishes to you all. Please email if there is anything we can support with. We are here for you!
Sam Copeland live stream
This is the place to come if you would like to join us for a live stream of the final chapter to 'Charlie Turns into a T-Rex' with author Sam Copeland on Tuesday at 11am.
Please ensure your microphones are switched off to any prevent feedback and disturbance. To mute your microphone, simply click on the button in the bottom left corner. You'll know you're muted when you see the icon below.
Sam Copeland is inviting you to a scheduled Zoom meeting.
Topic: Sam Copeland
Time: Mar 31, 2020 11:00 AM London
Join Zoom Meeting https://us04web.zoom.us/j/346336184
Meeting ID: 346 336 184
If you have any questions for Sam Copeland, please email Mr. Simmonds at ashleys@cradlehill.e-sussex.sch.uk
27/3/20 - Story time - Charlie Turns into a T-Rex (Chapter 11)
Charlie Turns into a T-Rex (Chapter 11)
Happy Friday everybody! It's time to announce the super exciting news for next week. Not only has the amazing author Sam Copeland kindly agreed to me reading the rest of our class text BUT he has also generously offered to read us the final chapter LIVE and EXCLUSIVE to Cradle Hill on Tuesday at 11am!
Zoom can be downloaded completely free of charge here (there is also a mobile app for Apple and Android devices). I've used it to stay in touch with colleagues, friends and family over the past week so it's a really useful bit of software to have at the moment. I'll be doing a test run at 11am on Monday to show you how to turn your microphone and webcam off (things get rather chaotic if not!)
If you're not able to join us live on Tuesday, the stream will be recorded for you to enjoy at your leisure.
Dolphins have absolutely loved these hilariously wacky books this year. They come highly recommended for children aged between 7 and 11 but younger audiences would also enjoy. If you're interested, you can purchase the trilogy on Amazon here (other retailers are available).
Feel free to spread the word about this exciting event to fellow Cradle Hill families. If you have any questions for Sam, please email them to me at ashleys@cradlehill.e-sussex.sch.uk
I'd just like to take this opportunity to thank Sam Copeland for giving up his time for us and making this happen!
Right... time for chapter 11!
Charlie Turns into a T-Rex (Chapter 11)
27/3/20 - Reasons to be cheerful #2: Time to make memories
I've lost count of the number of times I've said to myself "I just wish I had more time...". More time to cuddle the rabbits, train the rabbits, let the poor things out in daylight. More time to read, more time to sew, more time to go for walks, more time to potter around the garden. The list goes on and I'm sure you and your family will feel the same, your list might just differ a little!
This is a crazy time and I know that there are lots of things that we're not able to do right now, but at times like this, it's important that we make the most of what we do have. What we do have is each other and heaps of time to enjoy just being together. So, my little task for you today (and for the rest of the time that you're away from school) is to make memories. That's it. Just appreciate being with your family and enjoying doing something fun or silly with them.
Even though I'm a teacher and even though I love learning and think I am so incredibly lucky to help you lovely lot learn new and wonderful things every single day, I know that it's the experiences we've shared, the silly things I've done, or songs I've sung (9 and 1 are number bonds, 8 and 2 are friends...there's no escape!!) or dances I've danced and the daft stories about my even dafter rabbits that you will remember, not the facts I've taught you or the worksheets I've given you. I know, because they're all the things that I remember about my childhood (even though I'm getting old and grey!). So even if your sibling is getting on your nerves because they keep singing along to Frozen while you're trying to play Fortnite or maybe they keep hiding your favourite toy just to wind you up, just breathe, give each other a little space and then try to find a way to make fun memories as a family. Maybe play hide and seek together around the house. Make up a song or dance together, FaceTime a friend or relative to show them and make their day (or email it to us- we love hearing from you). Have a teddy bears picnic in the garden or in the lounge together (no, you are NOT too old for that. You are never too old for that!). Teach your dog a new trick or your sibling (or parents) something new. These are the things that you will remember. The world might be a little crazy at the moment, but we have been gifted time and that is invaluable.
Now here comes the teacher bit! If you're worried that you might forget some of the great times you've shared together, how about making a time capsule to be opened by your future self in years to come? You might include:
1. A letter to your future self. Tell them what's happening right now, how you're feeling, what you're grateful for and what you wish for the future. Maybe tell them a bit about yourself right now - What's your favourite colour? Favourite toy? Favourite animal? Favourite food? Favourite game? Favourite song? Dare I say it, favourite YouTuber?! What do you want to be when you're older?
2. If it's safe to do so, grab a newspaper and cut out articles about what's happening in the world today. It doesn't have to be all about Corona Virus. Maybe you might find some good news stories, something funny which made you laugh. If you can't get out to the shop to pick up a paper, have a look online with the help of an adult and see what you can find. Maybe print out an article or two if you can.
3. Draw a picture of your family, maybe your home too, maybe just draw your room or family pets. Try to add in little details as it's these things that are special but that you're most likely to forget.
4. Take some photos too to show what you've been up to while you've been off school. You could make the whole capsule electronic if you wanted to and just save it as a file on your computer somewhere, or ask your family to set up an email account for you to access when you're older and ask them to email it to you.
Then, package it all up, find a way to seal it, label it and then hide it away somewhere that you can half forget about it. In years to come, you'll be so glad that you did!
So, now I've wittered on forever, I'm off to enjoy spending some time with my furry family (in between planning and writing reports) and see if I can finally get Des to stop biting me, get Emmie and Dawn to have a cuddle with me and maybe teach Dex a trick or two. That might be a bit ambitious. Maybe just stopping them from eating the bird seed would be a good start?!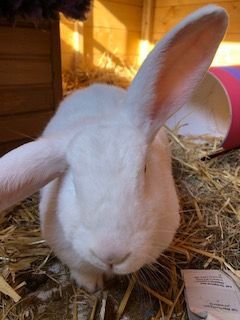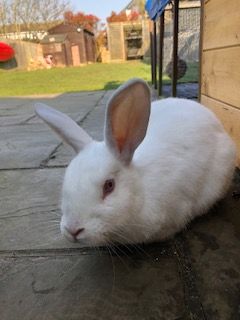 Des Emmie
Take care, troopers and keep in touch x
P.S: Parent and Carers, there are great ideas on a local Facebook page for homeschooling if you're interested. Just search for Seaford Town Homeschool Parents for Primary Years.
26/3/20 Story time - Charlie Turns into a T-Rex (Chapter 10)
Hi everyone! I finally managed to get chapter 10 sorted despite mysterious iPad deletions, juvenile domestic distractions, gardening noise and even certain pupils walking in during recording! Hope it was worth it.
Charlie Turns into a T-Rex (Chapter 10)
Stay tuned for chapter 11 tomorrow. At the end of tomorrow's video, I'll be revealing some exciting news about a Cradle Hill exclusive coming next week. Keep your eyes peeled! Over and out, Mr. S x
26/3/20 - Reasons to be cheerful #1: Amazing reads
Okay. So being trapped indoors is far from ideal but what better opportunity to get lost in a good book? I have really missed reading to Dolphins class each day (looking at an iPad isn't quite the same) as well as my young nieces and there are few more enjoyable things to do as a family or indeed on your own. I'm currently reading The Explorer by Katherine Rundell; an inspiring adventure where a young group of friends' plane crashes in the Amazon rainforest. At a time when I've been mostly cooped up inside, I have to say what a pleasure it has been to explore with them! Over recent weeks, there have been so many exciting new book releases and there are many more imminent that I'd like to tell you about.
Many Year 4 children are familiar with Toto the Ninja Cat (especially if they were lucky enough to have Miss K last year) and this month, the third book in the series entitled 'The Superstar Catastrophe' was published (now there's a pun that Mr S would be proud of). Dolphins favourite Amelia Fang also released book number 6 recently (and don't miss the special World Book Day edition too). Ross Welford's surreal and hilarious novels have also been a hit with Dolphins so don't miss the latest release 'The Kid Who Came From Space' if science-infused comedy is your thing! Jennifer Killick's horror and humour hybrid 'Crater Lake' also comes highly recommended for those who enjoyed the Alex Sparrow trilogy. I know many Dolphins will also be hyped about the exciting announcements of new additions to Andy Shepherd's The Boy Who Grew Dragons series (released 2nd April) as well as Steven Butler's hilarious Nothing to See Here Hotel collection (coming in September). These two have been perhaps the biggest hits in the Dolphins reading corner this year! For fans of the latter, check out 'Draw along a Lenton' on YouTube where Sussex-based illustrator Steven Lenton will be doing tutorials on how to draw some of his most famous creations! The ever-prolific David Walliams has also announced a new novel based around Slime (that man does not miss a trick!) which may be of interest. He's also adding a free audio book to his site every day at 11 o'clock for 30 days (just click the link below, scroll down and click on 'Elevenses'):
https://www.worldofdavidwalliams.com/
Personally, I am incredibly excited about the incoming 'Do You Know Me?' which is the follow up to one of my favourite ever books 'Can You See Me?'
For fellow footie fans, there is also a new Roy of the Rovers book coming out which follows the career of Roy Race's younger sister Rocky. I must also let you know that author Tom Palmer has announced that his first RotR book 'Scouted' (another popular read back at school) has been made available for free. He will also be doing a live Q&A on Thursday 23rd April at 10am. See here for more details. https://tompalmer.co.uk/free-roy-of-the-rovers-book-and-online-chat/
As we are coming to the end of Dolphins' class text, please let me know if there are any other books you'd like me to read to you all next. On a 'totally' unrelated matter, JK Rowling has announced that Harry Potter books are allowed to be recorded…. just saying! ;)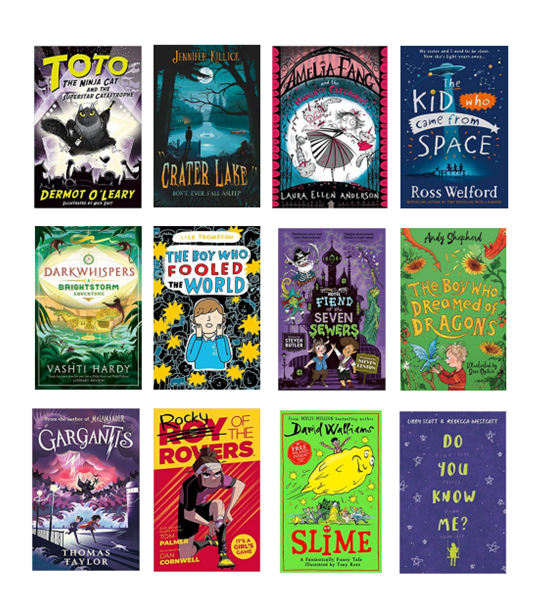 25/3/20
Morning all!
It's another beautiful day out there today. I hope you manage to get out in the sunshine. If you do, maybe you could see how many different breeds of birds or dogs you can spot, how about a garden mini-beast hunt or just reading a story or having your lunch out in the sunshine? Have a look at this great site for more ideas:
https://www.woodlandtrust.org.uk/blog/2020/03/kids-nature-activities-self-isolation/
I've already seen beautiful peacock butterflies and plenty of bees around, as well as birds collecting nesting materials (they're particularly keen on the rabbit fur and bits of hay floating around my garden!) so there is plenty to see. I'll keep updating with seasonal changes (I really can't wait to see my first spring swallow or hear my first screeching swift), so keep your eye on our blog if that's your thing!
If you're a fan of more exotic creatures, check out Steve Backshall's Wildlife Chat on his Facebook page and YouTube channel. There's one today at 9.30am. Let us know something new that you find out!
I've been enjoying A Pinch of Magic by Michelle Harrison which is still available to listen to for free on the World Book Day website until the 29th March. It's an amazing, magical (who'd have guessed?!) tale about 3 sisters trapped by an ancient curse. There are plenty of twists and turns to keep you interested, so it's definitely worth a listen! Find it here:
https://www.worldbookday.com/world-of-stories/
What are you reading at the moment? Send any recommendations to us - we're always on the lookout for brilliant new books!
Fancy a fun little maths game to play? How about playing Maths Tug o' War? Make or print a number line to 50, grab a dice and something that you can use as counters and give this a go:
Whatever you do today, we'd love to hear about it! Please feel free to email us pictures or just send us a little message to say hi. Thanks so much to all of you that have already done this; your messages really make our day!
Stay safe lovelies x
25/3/20 Story time - Charlie Turns into a T-Rex (Chapter 9)
Hi guys, I really hope you're all keeping well. Miss you all! Thank you so much for all of the lovely comments about the first video - it has assuaged most of my cringing! Glad you're enjoying the book. Anyway, it is now time for the next instalment of Charlie Turns into a T-Rex. Enjoy!
Charlie Turns into a T-Rex (Chapter 9)
I'll try to get chapter 10 online later this week! Sadly the original recording was mistakenly deleted but I'll try to film from home. I'll soon be revealing some exciting news about something we have planned for next week.
24/3/20 Story time - Charlie Turns into a T-Rex (Chapter 8)
Dear Dolphins class. I am delighted to announce the first in a series of videos in which I'll finish reading our current class text. It is my first foray into the world of YouTubing so I apologise in advance for the substandard cinematography and editing! It's more 'Mr. Simmonds turns into a forehead' than Charlie turns into a T-Rex. Promise I improve in future videos!
I hope you all enjoy. Keep smiling x
Charlie Turns into a T-Rex (chapter 8)
Tuesday 24th March 2020
1. Good morning! Over the coming days, Mr. Simmonds will be uploading videos of himself reading the remaining chapters of Dolphins' class text 'Charlie Turns into a T-Rex'. He would like to thank the author Sam Copeland for kindly agreeing to this. In addition, there is some very exciting news coming related to this so please watch this space!
In the hilarious and gripping 'Charlie trilogy' books, the protagonist Charlie McGuffin tries to be an optimist, but in reality he's a bit of a worrier. Charlie worries about his brother (who is in hospital), their very panicked parents, unwanted attention from the school bully and the fact that he's started turning into animals!
Even though every kid wants a superhero power, Charlie isn't keen on the idea of turning into a pigeon in the middle of the school play. But what happens if he does? Will he get sent away for Science to deal with? Will his parents crack under the extra stress? With the help of his three best friends, Charlie needs to find a way of dealing with his crazy new power – and fast!
Mr. Simmonds has compiled a list of writing tasks linked to the book that children may wish to complete at home.
- Write a book review
- Write a letter to the author
- Write an alternative chapter to the story - Charlie changes whenever he's feeling anxious or worried. What would be a good animal to change into right now?
- Write a letter of advice for Charlie
- Write a diary entry in role as Charlie
Use this writing styles helpsheet to support your children with writing for specific purposes.
I really look forward to seeing the work that you produce!
2. Any children who were self-isolating last week wouldn't have received their Power Maths books. I've attached the remaining sessions which can be downloaded here
3. We would also like to share some ideas of games you may wish to play with your children to foster their creativity.
- Board games such as Boggle, Scrabble, Bananagrams, Story Cubes and Lexicon are great for creative play, vocabulary building and spelling.
- Sudoku is great at nurturing problem solving skills in children. See the link below for free access to easy sudoku for children - http://www.kidsmathgamesonline.com/sudoku.html
- Scattergories - take a subject eg: animals/ food/ characters and try to name one for each letter of the alphabet.
- Anagrams - take a nine letter word such as 'important' and see how many other words you can make from it.
- Take two random words and try to make a story (silly or otherwise) around those words.
- Consequences story building game (see template
here
)
As always, please ask us if there is anything we can do to support learning at home. Teaching staff will be checking emails daily.
Monday 23rd March 2020
Hello parents and guardians of Year 4. The year 4 team and wider Cradle Hill community send you our best wishes at this difficult time. If you are looking for ways to support your child with their learning at home, we will post ideas and updates on this blog.
We hope you found the home learning packs (sent home on Friday 13th March) helpful. On our home learning page, you will also find a number of useful links to resources that can help to supplement your child's learning at home. If you are struggling for physical resources to support your child with home learning, this booklet provided by Classroom Secrets may be useful.
Most of the content has been covered in class this year which will provide a useful opportunity for the children to consolidate and refresh their learning. The first 18 pages are maths-based. Page 19 onwards focuses on grammar and reading tasks.
There is also a booklet filled with practical learning opportunities for around the home which you can download here.
In addition, below are some reading comprehensions based around topics we study in year 4. The texts are supplied by Deepening Understanding who Cradle Hill subscribe to. These should only be used for the purpose of home learning at this time.
Please stay posted for further updates and additional ideas on how to help your child at home.
Best wishes,
Year 4 team x